Green Bay Packers Have Offered Aaron Rodgers a "Significant, Long-Term Contract Extension"
Published 05/11/2021, 8:54 AM EDT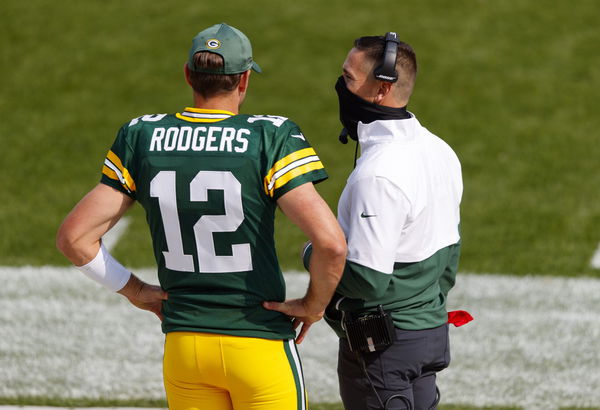 ---
---
The Green Bay Packers are in a desperate situation to hold on to their star quarterback Aaron Rodgers. The 2020 NFL MVP is reportedly keen on seeking a trade away from Green Bay due to his growing differences with the Packers management.  
ADVERTISEMENT
Article continues below this ad
Starting with the draft of Jordan Love in 2020 to not reworking his contract over the offseason. Rodgers likely lacks the assurance he seeks regarding his role as the team's starting QB.
But according to one recent development, it looks like the Green Bay Packers are trying to make sure Rodgers returns. 
ADVERTISEMENT
Article continues below this ad
Packers making efforts to bring Aaron Rodgers back
Appearing on NFL Now, league insider Ian Rapoport said that both parties aren't quite happy with one another. But that doesn't mean the Packers haven't been trying.
"They're not happy with each other. The Packers have done a lot of different things to try to make Aaron Rodgers happy. To try to kind of come back to them a little bit," said Rapoport.
Rapoport even said that the Packers have made a long-term offer to the QB to convince him to return to Lambeau Field. 
"They made a significant long-term contract extension offer. The two sides have been negotiating. It's not like they've been talking to themselves," Rapoport added.
This shows that all hope is not lost for Packers fans. Given that the Rodgers camp is at least willing to listen to what the Packers have to offer is a sign that things might work out in the end. 
For now, the Packers organization has maintained that Aaron Rodgers will not be traded. Even GM Brian Gutekunst has said that the franchise will not be entertaining trade offers for the QB.
ADVERTISEMENT
Article continues below this ad
But it is the same Gutekunst with who Rodgers apparently seems to have some beef. Earlier reports suggest that Rodgers wants Gutekunst out of the franchise. Rodgers was the last quarterback to win the Super Bowl for the Packers back in 2011. The franchise has gone close to the big game multiple times since then. 
ADVERTISEMENT
Article continues below this ad
But despite Rodgers' best efforts, without offensive tools, the Packers seem to be stuck in a loop. So despite the Packers' new contract, should Rodgers go elsewhere to win his second Super Bowl ring?