Here's What We Know About Aaron Rodgers' NFL Helmets
Published 09/06/2020, 9:33 AM EDT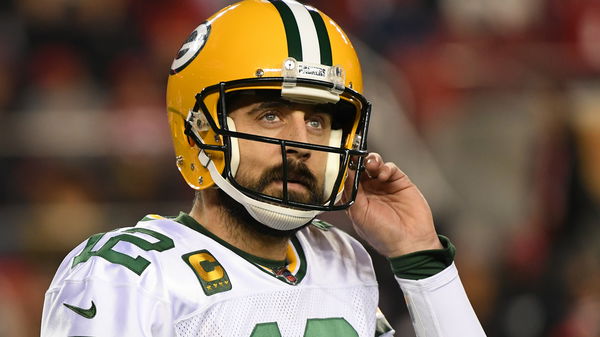 Aaron Rodgers' helmet dominated the NFL conversations ahead of the 2018 and 2019 NFL seasons as it fell in the unsafe category. This required him to change it, to continue playing in the NFL. That shouldn't have been much of a problem, right? However, it was a big deal, as helmets are an important component of NFL players' uniforms. This is because a helmet needs to fit just perfectly, as a player needs to perform at a high level despite the helmet.  
As football players must stay safe and play at a high level, they get used to a single model and stick with it for the entirety of their careers. However, some players, like Green Bay Packers quarterback, aren't so lucky. As a result, they needed to comply with NFL safety regulations and switch helmets to avoid serious injuries on the football field. 
The dangers faced by quarterbacks on NFL plays
ADVERTISEMENT
Article continues below this ad
Rodgers, like most quarterbacks, comes in danger of a sack on every offensive play. Defensive units breach the blocking line and blast through the offensive lineman who protects the quarterback's blind side to bring them down.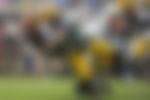 The injuries sustained in such plays can have life-changing consequences in the long run. Concussions are common in the sport and the NFL takes all head injuries seriously. Every year, the NFL and NFLPA conduct biochemical tests in a laboratory to understand helmet safety and categorize helmets based on their ability to absorb impact and keep the player safe. 
In 2019, the experts analyzed 45 different helmet models, with 11 being banned. 27 helmets featured in the green zone and seven made it to the yellow zone.
Aaron Rodgers' Schutt AiR XP Pro Model was in the red zone. This was his helmet, right from the Green Bay Packers' game against fellow NFC rivals, the New York Giants in the 2010 NFL season.
Why did Aaron Rodgers switch to the Schutt AiR XP Pro Model?
The Green Bay Packers quarterback switched to this model after he suffered a concussion for the second time in the season. Rodgers claimed to have been out for a split second when Detroit Lions' Landon Johnson (No.55) tackled him. 
As a result, he sat out of the side's trip to Foxborough. The injury snapped his run of consecutive NFL starts after becoming 'The Green and Gold's' numero uno.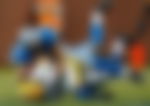 However, Rodgers returned with a new helmet and helped his side win six on the bounce to become the NFL champions. Hence, the switch didn't seem to affect him as a 27-year-old. 
As time passed and technology advanced, the helmet that served him for eight years had become obsolete. The NFL, however, permitted their sophomore year and above players to continue with their older models until 2019.
The NFL today sent clubs results of helmet testing, done jointly with NFLPA. For first time, 10 helmet models are listed as prohibited based on poor testing. New players/players who didn't wear those helmets in 2017 won't be allowed to wear in 2018. Full phaseout expected in 2019

— Tom Pelissero (@TomPelissero) April 16, 2018
This gave them an entire season to phase out the old helmets in favor of new ones. Later in the season, Aaron Rodgers suffered a concussion. This may have given him the belief that he had to part ways with the Schutt AiR XP Pro Model.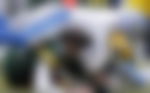 Ahead of his twelfth season, as starting quarterback, Rodgers said, "That (helmet) was a little outdated, probably. I think around that time, when the CBA got signed, they had some better regulations about the safety quality of the helmets, and I've just kinda been up to date for years."
Aaron Rodgers plays with the VICIS Zero1 helmet model
Rodgers made the helmet switch and opted for a brand he invested in. Interestingly, the model ranked at the top of the 2018 NFLPA helmet laboratory testing performance results, too. This was the VICIS Zero1 which is worn by Seattle Seahawks' Russell Wilson and New York Giants' Golden Tate. 
Rodgers picked a helmet at the top of the pile, and he will most likely never switch helmets again. The model dropped five spots in the 2020 helmet laboratory performance testing results. However, it may not reach the red zone before 38-year-old Aaron Rodgers walks off into the sunset. 
ADVERTISEMENT
Article continues below this ad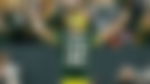 The Packers veteran stated that helmet switches are not a big deal because, "as far as the fit is concerned, you don't really notice the difference at all. It fits really nicely."
His 2019 season would have allayed minor fears about the helmet switch this deep into his career. Rodgers performed at a decent level and helped his team reach the NFC championship game after two dismal years. He continued with deep playoff runs in 2020 and 2021 as well, clinching the regular season MVP in both seasons. 
ADVERTISEMENT
Article continues below this ad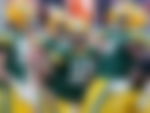 Fans hope 2022 will see him go one step further and clinch a second Super Bowl. Doing so will provide evidence as clear as daylight that mundane elements on the football field or uniform do not distract Aaron Rodgers.