"I Own You"- A Savage Aaron Rodgers Destroys Chicago Bears Fans After Destroying Their Team
Published 10/18/2021, 7:30 AM EDT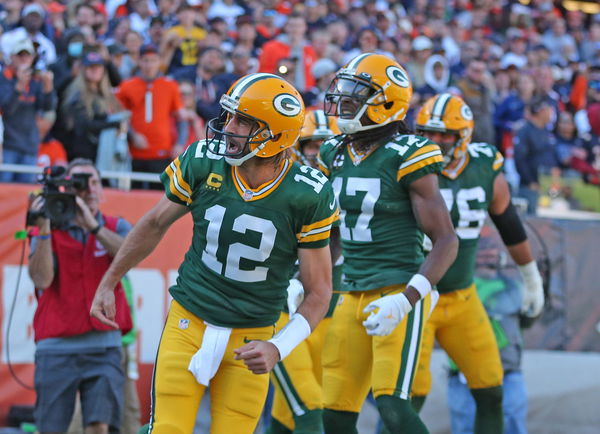 ---
---
With a 24-14 win over Chicago Bears, Aaron Rodgers once again displays his dominance in the NFL. The Packers looked phenomenal with Rodgers leading them, and have secured their fifth win of the season. What was more eye-catching than the plays made? Rodgers making a damning statement to Chicagoans as they received a drubbing at his hands.
ADVERTISEMENT
Article continues below this ad
Aaron Rodgers is a savage
ADVERTISEMENT
Article continues below this ad
Aaron Rodgers is neither the most modest man on the field, nor is he the most proud. However, when you beat your oldest rivals in a big game, one can't help but get a little cocky. With two touchdowns and a decent yard coverage, Aaron Rodgers had to showcase his dominance over Chicago Bears.
After scoring a running touchdown to give Green Bay a nine-point lead, Rodgers looked up at the Bears fans and taunted them to his heart's content. He then looked right at them and yelled, "I own you!" While we aren't sure yelling something like that would get you in trouble, it surely must've made Rodgers feel like a God.
And why wouldn't it. After suffering an early loss to New Orleans Saints in the season opener, Rodgers has led the Packers valiantly. Picking up wins against Pittsburgh, Cincinnati, Detroit, San Francisco and now Chicago, Rodgers has stamped his claim on the 2021 season. But will this dominance continue?
Rodgers and Co head to Washington next week. Ron Rivera's squad wouldn't feel good after losing to the downtrodden Kansas City Chiefs. However, they can still upset the Packers' chances of making it to the playoffs. Keeping in mind, it takes a slew of victories to gain momentum, but one loss can ruin it all for the Packers.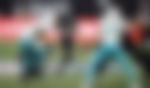 Is this another MVP season for him?
ADVERTISEMENT
Article continues below this ad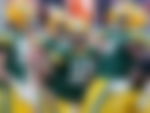 The only thing preventing Aaron Rodgers from having a second MVP season is his contract situation with the Packers. During the preseason, Rodgers displayed some stubborn behavior that irked fans, analysts and other players. Setting all of that aside to play another season shows great moral character from Rodgers, but his teammates won't forget the negative side of it.
On the field, we've only witnessed positives from Aaron Rodgers. The veteran quarterback is well on his way to break the record held for most touchdown passes. He recently overtook NFL legend Dan Marino to climb one spot on that list. With this, Rodgers has already put fellow quarterbacks on notice.
ADVERTISEMENT
Article continues below this ad
The competition has never been fiercer, and he will face competition from names like Tom Brady, Lamar Jackson, Matthew Stafford, Joe Burrow and Kyler Murray. However, the bigger goal remains taking the Packers to the playoffs, where they can hopefully make to another Super Bowl game. Winning the Super Bowl would surely be a great way for Rodgers to end his reign at the Packers.