'I'm an Athlete, Not an Activist': Aaron Rodgers Issues Damning Statement Amidst Recent Backlash
Published 11/10/2021, 2:08 PM EST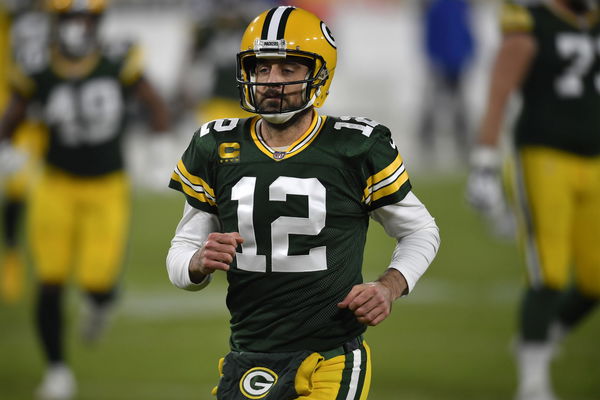 ---
---
Aaron Rodgers was in big trouble recently. Not only did the Green Bay Packers quarterback lie about his vaccination status, he followed up with some controversial comments. On the Pat McAfee show, Rodgers claimed Joe Rogan gave him advice, which drew the ire of fans. Now, Rodgers has not apologized, but acknowledged that the comments he made were misleading.
ADVERTISEMENT
Article continues below this ad
Aaron Rodgers follows up on controversial rant on Pat McAfee Show
ADVERTISEMENT
Article continues below this ad
Green Bay Packers rued the day Aaron Rodgers claimed he was immunized and carried on with his training for the season. When the season began, the Packers started slow but then began routing their opponents. Now, the Packers rue the day Rodgers tested positive for COVID, and his lies spilled in the media.
Appearing on the Pat McAfee Show once again, Rodgers clarified his comments. He said he understands the opinions he shared were controversial, and he definitely misled people about his the situation.
"I shared an opinion that's polarizing. I get it. And I misled some people about my status, which I take full responsibility of, those comments. But in the end, I have to stay true to who I am and what I'm about. I stand behind the things that I said."
"I understand that people are suffering. This has been a really difficult time for the last two years on so many people. We all know individuals who've lost their lives personally, people who've lost their businesses, their livelihoods. Their way of life has been altered completely. And I empathize with those things. I also know how sports cam be such a connector and bring people together in times of adversity. I do realize that I am a role model to a lot of people."
ADVERTISEMENT
Article continues below this ad
Rodgers takes a firm stance regarding his opinions
With his name dragged through the mud already, Rodgers has no shame in reaffirming his stance. He clearly chose not to get vaccinated. Despite it coming back to bite him, he will continue doing what's best for his body.
ADVERTISEMENT
Article continues below this ad
"I'm an athlete. I'm not an activist.' Rodgers continued, "I'm going to get back to doing what I do best, and that's playing ball. I shared my opinion. It wasn't one that was come to frivolously. It involved a lot of study and what I felt like was in my best interest for my body. Further comments, I'm going to keep to myself and my doctors."