Local Healthcare Provider Controversially Cuts Ties With Aaron Rodgers
Published 11/07/2021, 11:26 AM EST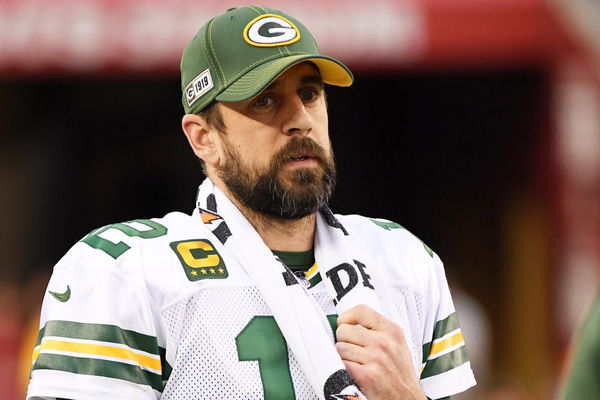 ---
---
The explanation given by Aaron Rodgers for his unvaccinated status did not go well as one day after his big reveal, a local health care organization 'Prevea Health', decided to end ties with the Green Bay Packers star quarterback.
ADVERTISEMENT
Article continues below this ad
Rodgers is all set to miss his Kansas City Chiefs fixture this week after he tested positive for COVID-19 on Wednesday. On Friday, the quarterback gave a 46-minute appearance on the 'Pat McAfee Show' disclosing why he chose not to take the remaining two jabs of the mRNA vaccines (which were briefly suspended earlier this year) due to an allergic reaction.
Aaron Rodgers with his big reveal
Following which Rodgers petitioned the NFL, the NFL Players Association, and a jointly approved infectious disease expert to be considered vaccinated in order to be exempted from following the protocol rules which the unvaccinated players had to follow. Rodgers declared the reporters in August that he was completely "immunized", although shortly after his petition was denied.
QB Aaron Rodgers and the #Packers could face penalties for COVID-19 violations, with Rodgers' mask-less press conferences and a recent Halloween party among the issues in focus.

My story: https://t.co/tfeJTjVgho

— Ian Rapoport (@RapSheet) November 7, 2021
"Some of the rules to me are not based in science at all. They're based purely in trying to out and shame people, like needing to wear a mask at a podium when every person in the room is vaccinated and wearing a mask makes no sense to me," Rodgers said Friday on the show. "If you got vaccinated to protect yourself from a virus that I don't have as an unvaccinated individual, then why are you worried about anything I can give you?"
ADVERTISEMENT
Article continues below this ad
"And let me hit on protocols now because that's obviously been out there as well," he added. "I have followed every single protocol to a T — minus that one I just mentioned that makes absolutely no sense to me. But my daily routine is the routine of an unvaccinated person."
Interesting how the Trump bots have all come out on Twitter today to defend Aaron Rodgers.

— Don Winslow (@donwinslow) November 6, 2021
Prevea Health ends ties with the Green Bay Packers quarterback
Incidentally, after Rodgers' big reveal, the Wisconsin-based Health Care Organization decided to release an official statement, ending all ties with the quarterback. As with an unvaccinated status, Rodgers would not be a good face for the organization.
ADVERTISEMENT
Article continues below this ad
"Prevea Health and Aaron Rodgers have made the decision to end their partnership effective Nov. 6, 2021," the Prevea Health statement read. "Aaron has been a partner of Prevea Health, serving as a spokesperson and supporting the health care organization's health and wellness initiatives throughout Wisconsin, since 2012."
"Prevea Health remains deeply committed to protecting its patients, staff, providers and communities amidst the COVID-19 pandemic," Prevea concluded. "This includes encouraging and helping all eligible populations to become vaccinated against COVID-19 to prevent the virus from further significantly impacting lives and livelihoods."
ADVERTISEMENT
Article continues below this ad
Ultimately, the NFL has launched an investigation into the matter, but the authority to enforce the protocols rests in the hands of the teams. And hence the Green Bay Packers have to be strict with their protocol enforcement policies in order to prevent any such incident from happening.