Luke Skywalker Joins List of People Upset With Aaron Rodgers; Mark Hamill Trolls Packers QB
Published 11/11/2021, 9:28 AM EST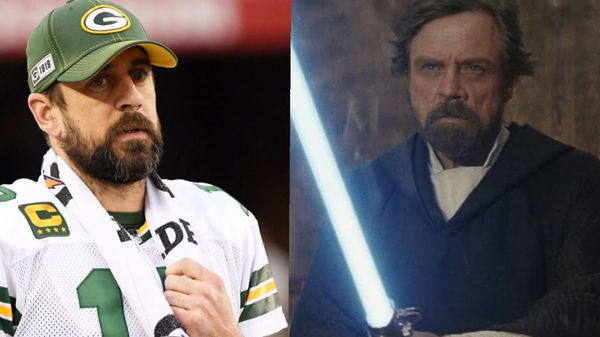 ---
---
Aaron Rodgers has lit a fire under every NFL fans' seat with his recent fiasco. If his pre-season nonsense revolving his stance with Green Bay wasn't enough, his COVID fiasco has made him one of the biggest villains in the NFL. Being a villain, you always have a hero to take you down. What better hero to take Rodgers down than the man who played Luke Skywalker, Mark Hamill.
ADVERTISEMENT
Article continues below this ad
Mark Hamill trolls Aaron Rodgers over clothing choice
ADVERTISEMENT
Article continues below this ad
Mark Hamill is not a huge NFL fan, but actually watches soccer. A supporter of Wolverhampton Wanderers in the English Premier League could not help but shift his attention to the NFL. In a recent appearance on the Pat McAfee Show, Rodgers sported a Star Wars hoodie, drawing the ire of Luke Skywalker himself.
The actor took to Twitter to construct a hilarious tweet regarding Rodgers' choice of apparel. He wrote, "Of all the sweatshirts he could have worn, he had to take full responsibility in THAT one?" As an NFL fan, one can easily get excited watching Mark Hamill take down one of the best players in the league. As a movie buff, you simply can't help but adore Hamill for this burn.
ADVERTISEMENT
Article continues below this ad
Rodgers' COVID fiasco has taken multiple turns. With his positive COVID test, news of Rodgers being unvaccinated set the NFL world on fire. After that, he appeared on the Pat McAfee Show and made some controversial comments. Not only did he blast the 'woke mob' for trying to cancel him, he claimed to be taking advice from Joe Rogan. Rogan is another media antagonist when we talk about COVID.
He isn't alone in this battle, as his fiancee also tried to defend him on social media. Shailene Woodley ended up body shaming an innocent man in an attempt to prove Aaron Rodgers did not break COVID protocol. While one can admire her efforts to repair her fiance's tarnished legacy, her methods are egregious.
ADVERTISEMENT
Article continues below this ad
Now, Rodgers has successfully angered one of the calmest men on the planet. But all jokes aside, Luke Skywalker probably doesn't care how quickly Rodgers recovers. There is good news for Packers fans, as they could see their star QB return in time for the Seattle Seahawks fixture.