Max Kellerman Claims 'Aaron Rodgers Doesn't Have to Play Till He's 45'
Published 05/07/2021, 9:29 PM EDT
---
---
The Aaron Rodgers saga is turning out to be one of the top NFL stories this summer. The reigning NFL MVP is currently involved in a standoff with long-term employers Green Bay Packers.
ADVERTISEMENT
Article continues below this ad
Rodgers is reportedly unhappy with how he has been treated by his current employers since making his debut in 2007.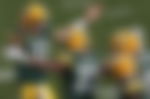 In addition to that, Rodgers' contract situation in Wisconsin is also under immense doubt. The veteran quarterback signed a 4-year extension with Green Bay worth $134 million featuring a $57.5 million signing bonus. The deal will expire at the end of this season.
ADVERTISEMENT
Article continues below this ad
The Packers are ready to offer their star man a short-term extension. But he is holding out for something more long term.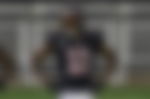 Will Aaron Rodgers remain with the Packers beyond 2021?
Speaking on the latest segment of ESPN's First Take, popular analyst Max Kellerman spoke about the future of Aaron Rodgers with respect to his NFL career and potential retirement plans.
"Rodgers doesn't have to play till he's 45. He's only 37, I keep saying 38 because he's gonna turn 38 this season. Stephen A pointed out earlier in the week, actually, he doesn't turn 37 and 38 until December…
"you can do a lot of things and you're athletic, you have more things to fall back on. So you can decline for longer and have a longer career.
"I would say this, I think it's pretty safe to say, given how many quarterbacks have performed well, until right around the age of 40. We don't have to look at Aaron Rodgers – Tom Brady, he'll be 43 and still elite. If he just does this till he's around 40.
"That's four more seasons, Stephen A. four more seasons is enough to pay him or guarantee him $40 million a year and give them the highest guarantee in the history of football making over $150 million," Kellerman said on the show.
ADVERTISEMENT
Article continues below this ad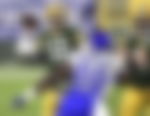 Despite rumors of an internal rift, Aaron Rodgers is expected to stay put in Green Bay at least for another year. There are two possible teams that might be interested in a potential trade deal for the 2020 NFL MVP – Denver Broncos and Las Vegas Raiders.
But losing someone like Rodgers at this point in the offseason is not something that the Packers will be looking forward to. Can they manage to keep their star man and mount another deep playoff run in 2021? Tell us what you think in the comments section below.
ADVERTISEMENT
Article continues below this ad