Green Bay Packers Star Trolls Donald Trump for His Comments on the NFL
Published 06/17/2020, 2:55 PM EDT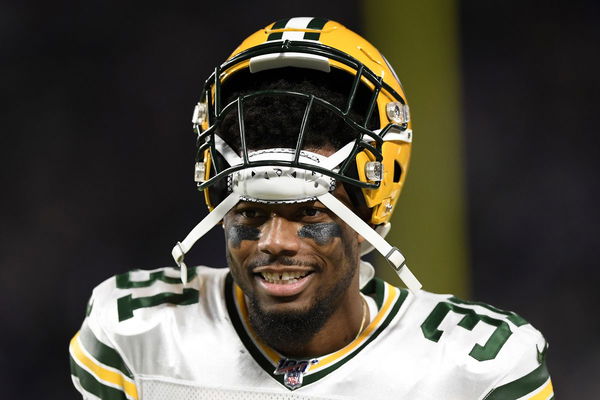 The U.S. President, Donald Trump, has opposed kneeling protests in the NFL since Colin Kaepernick began the movement in 2016. He said, back then, that players who engage in this form of protest must be fired (or banned) right away. And, he recently tweeted he won't watch the NFL if the protests continue. As it turns out, Green Bay Packers safety, Adrian Amos seems to have taken this in a very light-hearted manner.
Adrian Amos on Donald Trump not watching the NFL
Many may be disappointed or appalled with the President's statement, but Amos certainly isn't. He took to Twitter to jovially respond to Donald Trump not watching the sport from hereon.
ADVERTISEMENT
Article continues below this ad
Amos hasn't held back from speaking out against racism in the aftermath of George Floyd's death.
My grama wasn't allowed in stores growing up and in certain pools like she was goina contaminate the water or something lol .. you think everybody just had a change of heart?

— Adrian Amos (@_SmashAmos31) May 28, 2020
He also called out people for not even acknowledging racism till now.
It's crazy that it took this for some to Even acknowledge racism

— Adrian Amos (@_SmashAmos31) June 1, 2020
According to one of his tweets, Amos believes that because he has a platform as an athlete, it is his duty to speak out against the ills of society. Further, he thinks that some people look up to athletes, and thus, it is important for him to not keep silent.
Despite all the serious and grave conversations going on, Amos certainly doesn't forget to slip in a little humor, here and there.
On a lighter note.. People really be on here like " I was a fan until you posted this now I must unfollow" 😂😂😂

— Adrian Amos (@_SmashAmos31) May 30, 2020
Donald Trump's tweet comes after NFL Commissioner Roger Goodell said in a video that the NFL was wrong to not have heard its players earlier. This meant that the League disregarded Trump's opinion on players' kneeling during the national anthem. Furthermore, US Soccer overturned a ban on players kneeling during the anthem, which is perhaps also what triggered Trump's tweet.
ADVERTISEMENT
Article continues below this ad
Adrian Amos and the Green Bay Packers
Amos was selected by the Chicago Bears in the 2015 NFL Draft. He started all 16 games of his rookie year despite nobody expecting him to. The Strong Safety moved to Green Bay in 2019 and has been an important presence on the team since. Adrian had 84 tackles, one sack, two interceptions, and eight passes breakups in his first season with the team. During this offseason, he has been busy with virtual team meetings and so on.
He suffered a pectoral injury during the NFC Championship game earlier this year and was reported to undergo surgery. But he announced last month that he has recovered fully and doesn't require the procedure anymore.
ADVERTISEMENT
Article continues below this ad
He donated $100,000 to organizations in Baltimore to help fund food drivers there, in light of the pandemic. "You want to effect change where you're from. You want to see people living better," Amos said. "(I) feel in a situation like this with COVID, me not being able to go to work doesn't affect me as much as it does the next person."
Amos may not get the recognition that he deserves, but the safety brings something very vital to the Packers' defense – reliability and consistency.