'That's Really Great Stuff' – Tom Brady Throws Shade On Aaron Rodgers For 'I Own You' Remark Against Chicago
Published 10/21/2021, 7:30 AM EDT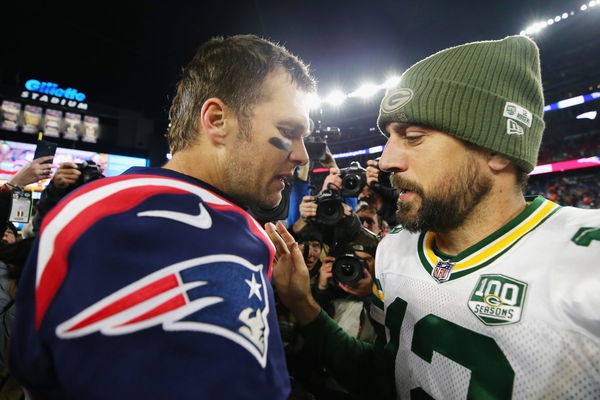 ---
---
It looks like the mind games have begun between two of the best quarterbacks in the NFL. After a dominating win against Chicago Bears, Aaron Rodgers made headlines for a controversial 'I own you' statement to the crowd. The aftermath didn't get spicy enough until fellow veteran quarterback Tom Brady reacted to the situation.
ADVERTISEMENT
Article continues below this ad
How did Tom Brady react to 'I own you' statement from Aaron Rodgers?
ADVERTISEMENT
Article continues below this ad
While many can draw the conclusion that Brady's reaction is hilarious, and he's simply happy for Rodgers, some can sense a tone of sarcasm. Brady has been the undisputed GOAT of the NFL, but Aaron Rodgers is swiftly catching up to him with some electric performances this season.
The game against the Bears proved Aaron Rodgers does not just care about winning with the Packers, who proved his passion for the sport. Packers vs Bears is a historic rivalry, and Rodgers kept that flame burning with his performance. Therefore, Tom Brady only found it fitting to react to that iconic moment on the Let's Go! podcast with Jim Gray.
"I was studying a little bit on the Bears and the Packers and watched a lot of that. That was another great game. And I actually before we get started I wanted to say congrats to Aaron Rodgers. Obviously, I know he's a great quarterback, but I guess he's now a shareholder of the Bears."
"I saw a clip of him really enthusiastically telling the crowd how happy he is to own Soldier Field. That's really great stuff. He owns the Bucks now, part owner of Soldier Field. He's got a great career beyond football." While the hint of sarcasm lingers, one cannot disagree that Brady's reaction is absolutely hilarious.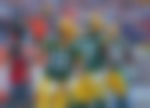 Co-host questions Brady about cities he owns
ADVERTISEMENT
Article continues below this ad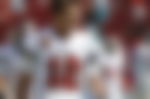 The podcast's co-host Jim Gray kept up the humorous conversation by asking Brady if he was a shareholder in any American cities. In his two-decade long career, Brady has given entire cities nightmares before big games. After the match, he sits back and watches the same fans quietly praise him.
When asked about staking a claim on Buffalo, Brady replied, "Not yet, not yet. Nope, I want to settle for a few things less than that. I'm cool with owning just a few lucky autographs. That's what I'm the owner of." Keeping in mind, Brady is 32-3 against Buffalo, a record no one can beat.
ADVERTISEMENT
Article continues below this ad
Next, Brady roasted New York Jets, who are unsurprisingly one of the poorest teams in the NFL. When asked about owning New York City, with a 30-8 record against the Jets, Brady claimed, "Oh no, I'll just take the color green. I don't need the Jets. I'll just own the color green. I think that's a little bit better." Fortunately, it snows in New York, because they'll need something cool to soothe that burn.