'Thought About You' – Aaron Rodgers Trolls Retired QB Dan Orlovsky Over His 'Safety' Mistake
Published 10/26/2021, 8:00 AM EDT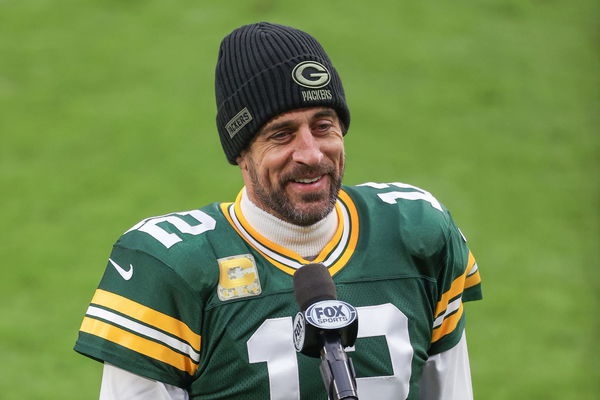 ---
---
Aaron Rodgers had an excellent game against Washington Football Team this past weekend. Week eight was a good game week for Green Bay Packers, and the positives outweigh the negatives. But in between all that, Aaron Rodgers stopped to take a hilarious dig at Dan Orlovsky, who pointed out something peculiar.
ADVERTISEMENT
Article continues below this ad
Aaron Rodgers trolls Dan Orlovsky on Twitter
ADVERTISEMENT
Article continues below this ad
Dan Orlovsky played quarterback for Detroit Lions, which basically meant his career amounted to nothing early on. However, he contributed one outstanding moment that fans won't let him forget. Against Minnesota Vikings in 2008, Orlovsky received the ball after the snap and in order to avoid the rushing defense, he inadvertently ran out of his own end zone, resulting in a safety.
Dan did not realise why the flag fell, until he noticed the scoreboard. He said to himself, "You're an idiot." Similarly, Aaron Rodgers also nearly escaped out of his own end zone against Washington, but held his ground and avoided two points. For Orlovsky, the two points lost were the margin by which his team lost. For Rodgers, two points would've been a consolation to Ron Rivera's side.
Orlovsky took to Twitter to troll Aaron Rodgers, but ended up becoming the butt of all jokes. Twitter is a harsh place Dan, unless you avoid running out of your own end zone. He tweeted, "What could've been," to which Rodgers replied, "Thought about you legit right after this throw away."
ADVERTISEMENT
Article continues below this ad
Fans on Twitter hounded Dan for trying to roast Rodgers. Even the Packers QB's fans began roasting him, going so far as to posting videos of the hilarious fail on Twitter.
ADVERTISEMENT
Article continues below this ad
Aaron Rodgers once again reminded people that when they take aim at him, they better not miss. But now, the Packers have a monumental task ahead of them as they face Arizona. The Cardinals are undefeated this season, with Kyler Murray, DeAndre Hopkins, JJ Watt and newest signee Zach Ertz firing on all cylinders. Will the Packers continue their dominant run and beat Arizona, or will they be a statistic in their unbeaten run?