Undefeated No More: Understanding How Aaron Rodgers Slayed Arizona Cardinals 24-21
Published 10/29/2021, 7:30 AM EDT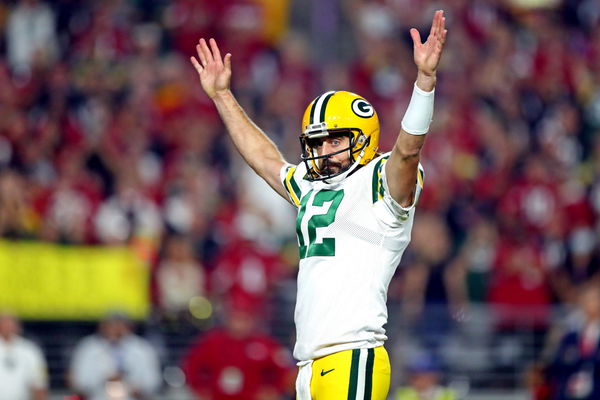 ---
---
Undefeated no more is the theme of the day, as Green Bay Packers took down Arizona Cardinals. The only undefeated team in the NFL just suffered their first loss, and the Packers have risen to elite status. Without Davante Adams and Allen Lazard, Aaron Rodgers led his team to the finish line valiantly. But how did he manage that?
ADVERTISEMENT
Article continues below this ad
How did Aaron Rodgers slay the Cardinals?
ADVERTISEMENT
Article continues below this ad
With news of Davante Adams and Allen Lazard ending up on the injury reserve list, every soul in Arizona rejoiced a little. The new favorites to clinch the Super Bowl looked the favorites ahead of week eight, but fate had different plans for them. Some can say the Green Bay locker room radiated with positivity, while some can say they simply would not let go of 'their' undefeated streak.
With this win, the Packers have equaled Arizona's record of 7-1, and head into the rest of the season as Super Bowl favorites. But without his two favorite targets, how did Rodgers pull off a win? Well, the running game was simply exquisite. More than throws, Rodgers handed the ball off to AJ Dillon and Aaron Jones, who scorched the earth to register crucial first downs.
The Packers moved up the field like a shark chasing a seal. Ultimately, Aaron Rodgers' expertise paid off when he only had to find Randall Cobb in the end zone. The wide receiver caught two TD passes from Rodgers, extending Green Bay's lead over Arizona. While their performance was convincing, Arizona still showed signs of their scary potential.
ADVERTISEMENT
Article continues below this ad
Kyler Murray raced across the field on multiple occasions, showing off that he's more than just a throwing quarterback. While he might be the fastest quarterback in the league, he had to show great mental fortitude to hold off the smarter quarterback in Aaron Rodgers. Unfortunately for him, Arizona's defense did not live up to the mark.
ADVERTISEMENT
Article continues below this ad
A big win for Green Bay to celebrate, and a sad loss to Arizona to ponder on. However, both teams have to move on and look to next weekend. Green Bay goes home to play Kansas City Chiefs in a gigantic match. Arizona flies to San Francisco to take on the troubled 49ers, in what could be an easy rebound fixture.