WATCH: Aaron Rodgers Wins the Internet While Trying to Show the Extent of his Foot Injury
Published 11/25/2021, 9:02 AM EST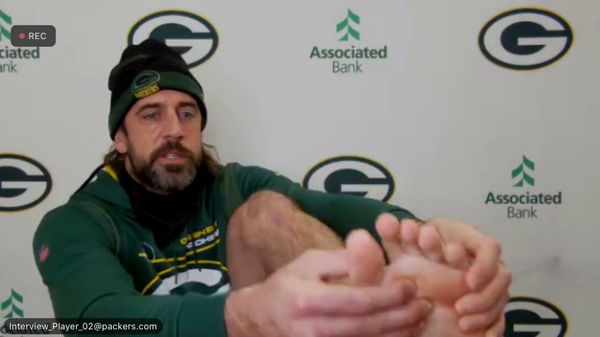 ---
---
A couple of days ago, Green Bay Packers quarterback Aaron Rodgers joked he had "COVID-toe." While he intended it to be taken as a joke, some took it seriously, including the Wall Street Journal.
ADVERTISEMENT
Article continues below this ad
So during his press conference on Wednesday, the quarterback was quipped about the controversy. While everyone expected a serious and civil explanation, the way Aaron Rodgers proved did that he did not have COVID-toe left the NFL world in splits.
ADVERTISEMENT
Article continues below this ad
Aaron Rodgers clears the air about his Covid Toe joke
After defeating the Minnesota Vikings, the Green Bay Packers quarterback revealed that replayed the match with a toe injury. When asked for more details about the injury, the former Cal standout joked it to be Covid Toe. Unfortunately, few could get his joke.
"Covid Toe is a casual name for something medically known as pernio or chilblains, which is a condition that causes symptoms as discoloration and lesions," Andrew Beaton of the Wall Street Journal said this week. "It can be extremely painful and turn the toes purple."
Aaron Rodgers returned to the field after his case of Covid-19, but now he is dealing with a painful toe injury he called Covid Toe. This is what science says about Covid Toe and what the Green Bay Packers star is facing. https://t.co/aa3zPTsHrR

— The Wall Street Journal (@WSJ) November 24, 2021
The WSJ article gained enough traction, and the Rodgers was asked about it. Rodgers said he got "a kick out of reading that article." He, in fact, found it to be very intriguing. "That was very, very interesting, but, no, I had never heard of COVID toe before," Rodgers said. "Pat [McAfee] made a joke about it on the show, and I mentioned yesterday that it's worse than a turf toe and it must be a bone issue."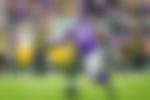 Green Bay Packers quarterback proves he does not have 'COVID toe' in the most hilarious manner possible
During last night' pre-match press conference, the Packers quarterback pulled off the funniest trick in the history of press conferences. As proof for not having 'COVID toe', he put his foot up in front of the camera to show that he has a broken pinky toe.
ADVERTISEMENT
Article continues below this ad
"I'm glad you asked just so I could show you the lesions of my foot here, so if I have enough room on this camera, let me see if I can," Rodgers said as he lifted his left foot. "Oh, there's no lesions whatsoever. Oh, what a surprise. No, that's actually called disinformation when you perpetuate false information about an individual. I have a fractured toe."
Aaron Rodgers was clearly waiting for the COVID-toe question because you can hear him say, "I don't know if I have room to get my toe up there," at the start of his press conference.

Here's his full answer about his fractured toe — with said toe on the screen. pic.twitter.com/hoC2UZTxME

— Rob Demovsky (@RobDemovsky) November 24, 2021
ADVERTISEMENT
Article continues below this ad
Unbelievable!