'Griddy Goes International': Manchester United Teenage Sensation Hits Iconic NFL Celebration After Scoring in the Premier League
Published 01/20/2022, 1:19 PM EST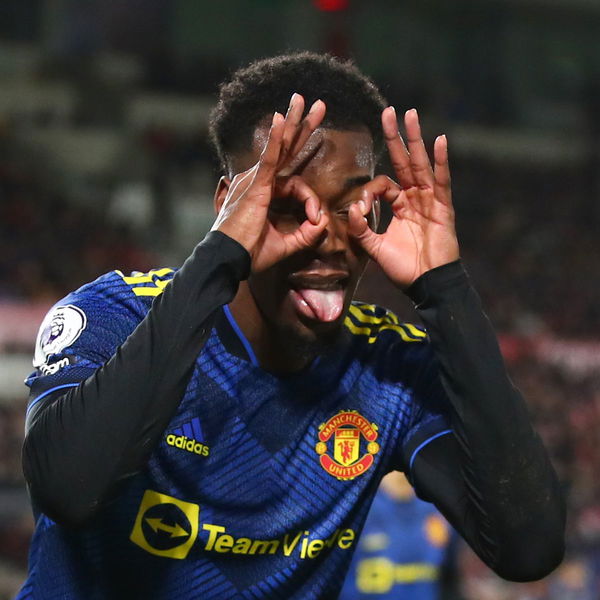 Isn't it amazing to see a crossover? The worlds of soccer and the NFL have crossed paths again. This time, the famous 'Griddy' celebration has 'United' the two. It seems like a young Manchester United player is a fan of the NFL. 
The 19-year-old Swedish soccer player Anthony Elanga did the griddy dance after scoring a goal against Brentford. This moment became very special for Manchester United fans as well as NFL fans. The eyeglasses and tapping heels celebration is fun to see after a touchdown. But not many expected to see it on a soccer field.  
ADVERTISEMENT
Article continues below this ad
Anthony Elanga does the Griddy
Manchester United faced off against Brentford F.C in the English Premier League. The first half of the game was pretty lackluster. There were a few attempts, but nobody scored a goal. 
Anthony Elanga made his sixth appearance for Manchester United last night. The 19-year-old plays in the winger position. Players like Cristiano Ronaldo and Lionel Messi play in this position. Elanga has been very impressive in the youth team. So United has decided to put him on the field this season. Last night seemed to be a perfect choice.
Elanga opened up the second half with a goal for United. After getting a through ball from Fred, the winger shot it past the keeper. After scoring the goal, Anthony put his hand on and off his eyes to make an okay sign. He also started tapping his heels to complete the dance. This was the famous NFL griddy celebration. This celebration is made famous by Minnesota Vikings star wide receiver Justin Jefferson. 
The origin of the griddy dance in the NFL
The griddy dance has been done by many NFL players like Justin Jefferson, Kirk Cousins, Ja'Marr Chase, Adam Thielen, Clyde Edwards-Helaire, and others. This celebration took over the NFL by storm in the 2020 season. 
ADVERTISEMENT
Article continues below this ad
The dance was invented at LSU. It was first seen done by Allen Davis. Davis is a friend of Ja'Marr Chase. When Chase saw the dance, he introduced it to Justin Jefferson. And the rest is history. We can see Jefferson doing this dance all throughout his sophomore year in 2019. And in 2020, after being drafted by the Minnesota Vikings, Jefferson brought this celebration to the NFL.
ADVERTISEMENT
Article continues below this ad
Do you know how to do the griddy dance?
Watch This Story: From Ja'Marr Chase to Mac Jones: Who Can Win NFL Pepsi Rookie of the Year?