'Gronk Rebounding Like Prime Shaq': NFL World Can't Get Enough of Rob Gronkowski Balling Like an NBA All-Star
Published 09/23/2022, 3:46 AM EDT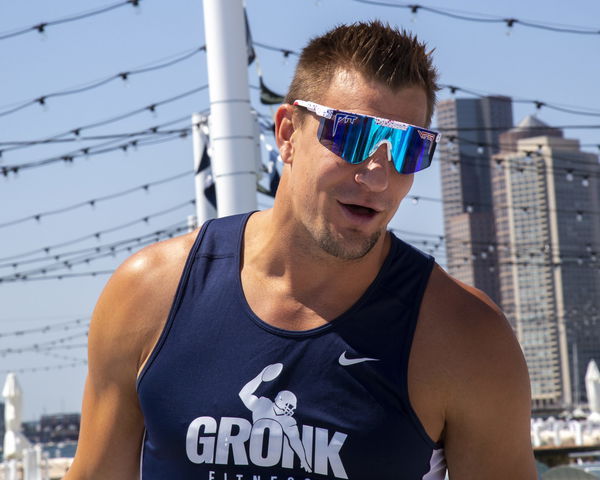 With each passing day, the former Buccaneers tight end Rob Gronkowski proves that he is a multi-talented star. A recent video of his heroics went viral online where the four-time Super Bowl champion was doing some crazy stunts on the basketball court. Fans were in awe watching the Big Gronk breaking some ankles and putting the ball inside the basket like an NBA All-star.
ADVERTISEMENT
Article continues below this ad
A few weeks ago, the football maverick was all over the court after he participated in the Monster Energy Big3 Celebrity Game.
ADVERTISEMENT
Article continues below this ad
Some of the snippets from the event circulated online where Gronk wore a white jersey representing one of the teams. Former wide receiver Matt James, who was also a contestant on season 25 of The Bachelor, guarded him.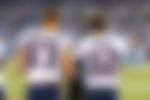 Gronk tactically approached the basket and drove right with a sudden spin and twist, a pump fake that confused James; after that, releasing the ball into the basket. The entire moment looked like it was a professional NBA game, and Gronkowski was the man orchestrating it.
Starting from anchoring a kids' dance show to hosting the events, Gronkowski tried everything post-retirement. And guess what? He just nailed it. Being 6'6" tall, basketball seemed to be the next go-to option for Gronk.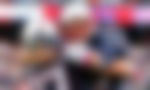 This year on June 21, he announced his retirement from the league once in for all. The veteran played for nine seasons with the New England Patriots and two with the Tampa Bay Buccaneers. Last season, he caught 89 passes for 802 yards and registered six touchdowns in 12 games. No doubt, a Hall of Fame title awaits him in the future.
NFL world reacts to Rob Gronkowski moving some legs on the basketball court
This offseason, Gronkowski, surprised the fans with several off-field antics. While everyone thought he would play next season, the veteran dropped a retirement bomb. But what's more hilarious is realizing that he is connected with all other kinds of sports other than football.
One of the users said he was playing like Shaq.
Another user had a bizarre justification.
No wonder why their on the brink of folding 😂

— Rick (@ice__luka) August 28, 2022
This user asked if it was Anthony Bennett!
Indeed seems like he was playing with the wrong ball.
Gronk was playing the wrong ball game his whole career

— Rzik (@w0kboy) August 29, 2022
For this user, it looked like WNBA.
Well, this user was a huge fan of Gronkowski.
My Mans Looking Like Draymond Green Out There

— Russo (@certified__guy) August 29, 2022
Gronk is still the best even if it was not on football.
ADVERTISEMENT
Article continues below this ad
While this user was confused by Gronk's play.
ADVERTISEMENT
Article continues below this ad
Although he vowed not to return, Rob Gronkowski's long-time agent Drew Rosenhaus recently revealed that the tight end may return if Tom Brady asks for him in the mid-season. Something which he had done two years ago.
Watch This Story: How Tiger Woods and Tom Brady's New Project Will Be Worth Millions, Even Billions in the Future