"Have to be Frugal": Bobby Wagner Bait Gets Rejected by Cowboys Faithful Who Expect More from Jerry Jones
Published 03/14/2023, 4:00 PM EDT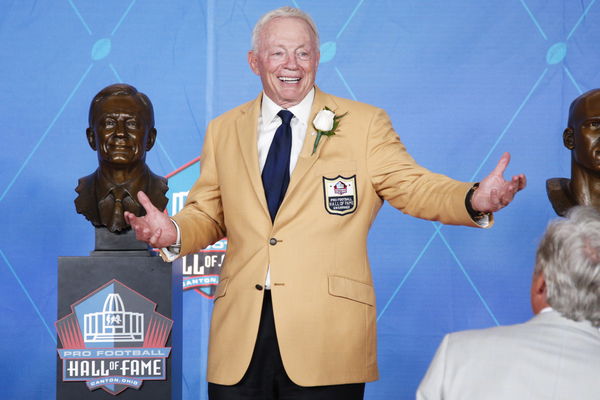 Dallas Cowboys have big ambitions. Spearheaded by their owner Jerry Jones, the Cowboys intend to make huge additions to their roster. Earlier this month, Jones eluded to pulling off some massive moves in the offseason. Jerry said, "Don't dismiss us doing something special with the right veteran free agent. Any place. I would in a New York minute if I think it fits a lot of what I'm sitting here talking about if it fits more than a short-term situation for us." And it seems they are in the move now.
Seems like the Dallas Cowboys have found one such enhancement to their current roster, as reports of them pursuing Los Angeles Rams' Bobby Wagner emerge.
Lifetime Dallas Cowboys fan Skip Bayless disagrees
ADVERTISEMENT
Article continues below this ad
Dallas Cowboys have kept a close watch over Wagner. Reports of them calling the linebacker before he signed with the Rams came up last year as well, but we all know how that went. Now that Bobby Wagner has been released by the Rams, the Cowboys have yet another chance.
At the time, Dallas focused their priorities on Vander Esch, earning themselves one of the NFL's best bargains. With Bobby Wagner out on the market, teams all over the NFL must be out there licking their chops. Despite all of these reports, one particular sports enthusiast disagrees with the choice Jerry Jones and his crew intends to make.
Skip Bayless, being a lifetime Dallas fan, had a harsh take on the matter, "Here's my problem with that whole mentality, yeah Mike is coming up, I love Mike, Diggs is coming back, I don't love Stefon Diggs, but I like him. I love the teams that plunge, like two years ago the Rams said we plunge. But that ain't Jerry. My team says we will wait on the draft, we will just develop players. The only plunge he tried was Odell for last year."
ADVERTISEMENT
Article continues below this ad
Skip didn't seem thrilled with the Dallas approach, and feels that the team needs to go into this particular offseason with a go-getters mentality, plunging players left and right. He even went on to cite the LA Rams and the Kansas City Chiefs as prime examples of what plunging looks like.
A trade worthy of plunging
Many would argue that enlisting Bobby Wagner to their ranks would give the Dallas Cowboys an immense boost in terms of experience. Wagner knows what it means to play on the big stage, as he himself made it to not one but two Super Bowl games.
ADVERTISEMENT
Article continues below this ad
Both of these stints, which Wagner pulled off, were a part of the "Legion of Boom", a defensive unit under then-Seattle defensive coordinator Dan Quinn, who now has the same role with the Cowboys. Reuniting Quinn and Wagner would be a step forward in itself, but combining them with the up-and-coming Dak Prescott could be the winning move for the Cowboys.
Watch This Story: Ciara and Russell Wilson light up Vanity Fair Oscars party amidst $4.2 Million fundraiser