'Haven't Seen Him Much At All'- Tom Brady Takes a Cheap Shot at Mac Jones Ahead of Patriots vs Bucs Fixture
Published 10/01/2021, 7:30 AM EDT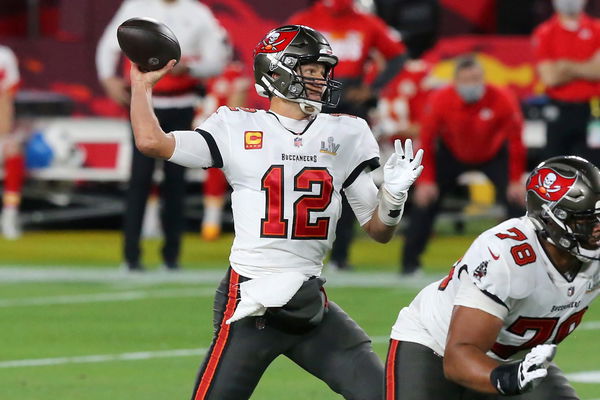 ---
---
When you go up against the GOAT, you can't afford to miss. But ahead of the New England Patriots vs Tampa Bay Buccaneers fixture, Tom Brady has already begun the mind games. Brady had a short but venomous response when asked about Patriots' rookie quarterback Mac Jones.
ADVERTISEMENT
Article continues below this ad
Tom Brady playing mind games with Mac Jones
ADVERTISEMENT
Article continues below this ad
Mac Jones hasn't had the best start to his NFL career. The rookie from Alabama Crimson Tide has suffered two losses from his first three games, losing the confidence of fans and NFL analysts. Touted as the next Tom Brady, Jones has only succeeded in labeling himself as 'not as good as Tom Brady'.
However, with the Tampa Bay Buccaneers entering Gillette Stadium, Jones has the ultimate platform to prove his doubters wrong. While there is no question he will look to impress, it looks like Tom Brady has a different attitude ahead of the game. During the pre-game conferences, Brady took a short jab at his rival.
Upon being asked whether he's watched Mac Jones before, he said, "I haven't seen him much at all. Yeah."
If I were Mac Jones, I'd either cry myself to sleep, or prepare myself to destroy Tom Brady. The greatest quarterback of all time is no stranger to beefs in the NFL, but picking a fight against a rookie QB desperate to prove himself could be a mistake. The last thing people would expect would be Jones triumphing over his predecessor, only to deliver an equally cocky post-game interview.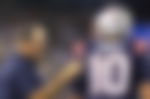 A do-or-die game for the Patriots
ADVERTISEMENT
Article continues below this ad
The New England Patriots are a side who desperately need a slice of good fortune. With only one win from their first three games, their confidence is pretty low, and the upcoming test against Tampa Bay Buccaneers is no joke. The reigning champions themselves will look to steady their course after a shock defeat to Los Angeles Rams.
Head coach Bill Belichick has smartly avoided most questions related to Tom Brady, but eventually succumbed to praising his former golden boy. While praising the former Patriot, Belichick hasn't delved deeper into Mac Jones and how confident he is ahead of the game. Jones himself confessed to feeling the pressure of facing Tom Brady at Foxborough.
ADVERTISEMENT
Article continues below this ad
With a game of such magnitude, the crowd reaction could also swing the momentum in either team's favor. We can fully expect both a hostile reaction to Brady, and the hero's welcome at the same time. Brady himself isn't expecting a 'homecoming', but the Patriots will surely hope the crowd backs them as they take on their toughest test.