"He can't Always Make the Magic" – Chris Simms Rates Russell Wilson Higher than Aaron Rodgers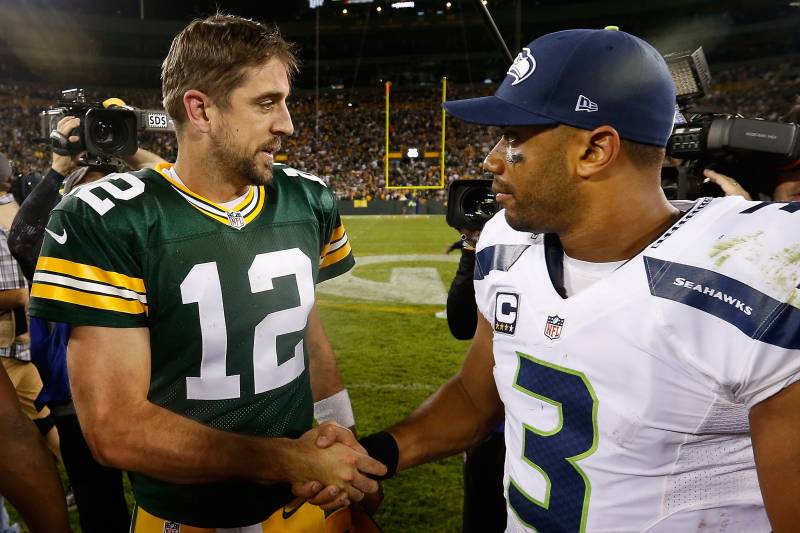 The debate around which quarterback is better – Green Bay Packers' Aaron Rodgers or Seattle Seahawks' Russell Wilson – is perhaps never-ending. Both quarterbacks have passer ratings over 100, a Super Bowl victory, and are Pro Bowlers. Our two competitors are both over 30 years old and still going strong. So, will we ever figure out who's better?
Aaron Rodgers vs. Russell Wilson
Analyst and former quarterback, Chris Simms recently released his list of top 20 quarterbacks entering the 2020 season. And for the first time, Simms has moved Aaron Rodgers down the list. "Well, it's all about what they are right now, in the 2020 season… I am not looking at career accomplishments or anything like that, and yeah, I think this is the first year I am going into a season since 2010 where I go, 'ooh, Aaron Rodgers isn't the best quarterback in football'," Simms told Colin Cowherd.

Chris added that despite Rodgers' brilliant arm and other important skills, "the reason he falls down to number three to me… the first thing would be, Mahomes and Russell Wilson, I think, can do more with less right now, than Aaron Rodgers can."
He added that while Rodgers is still one of the most gifted quarterbacks in the NFL, he isn't "as fast and as quick to dance around and pull off that Rodgers' magic that we used to see him do so much."
Chris Simms believes that the best thing Rodgers could improve is that he could take more risks. "There are too many plays that I watch on film where I go 'okay, five-step drop, he took one hitch, the guy's open – throw it, let it loose'. But he's a little careful with it and then, he holds it… and, you know, because of the skills declining just a little bit, he can't always make the magic that he used to."
Russell Wilson has done everything that Aaron Rodgers has but in fewer seasons. He has proved that he doesn't need a strong running game or an elite defense to win. And, while the two-star quarterbacks share many similarities, the two are still miles apart.
Here's hoping we are able to see both these quarterbacks perform fiercely from September onwards.