'He F*** With the Purple More': Lamar Jackson Shuts Down DE Calais Campbell Trade Rumors
Published 02/27/2022, 8:10 AM EST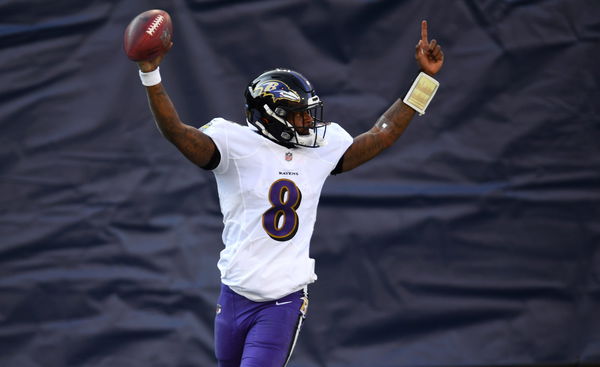 Baltimore Ravens quarterback Lamar Jackson isn't going to let his teammates leave without making a real push in the upcoming NFL season. Among those teammates is defensive lineman Calais Campbell, who will be entering free agency in a few weeks. Campbell has been a leading presence in Baltimore's defense since he arrived in the organization two seasons ago.
The news seems to have reached different players across the league, who are actively trying to recruit Campbell for their franchises. Former Ravens and current Raiders DE Yannick Ngakoue was one of them and took to Twitter to recruit his old friend.
ADVERTISEMENT
Article continues below this ad
While tagging him in the tweet and stating his belief that Campbell should join him in Las Vegas, he wanted him to join the 'dark side.'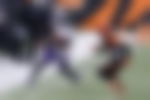 It seems the news reached Ravens QB Jackson, who was quick to dismiss Ngakoue's attempts while stating, "Hell naw Unk said he fw the Purple more." It was a subtle yet clear warding off message from the former NFL MVP to the Raiders DE on the case of Campbell.
Lamar Jackson calls for Campbell's return next season
Jackson had an injury-restricted 2021 season that meant Ravens will not be making the playoffs. But with the injury fully healed, Jackson will be determined to perform, and the Ravens need to ensure they put him in a position to succeed. Having DL Campbell in their defense would mean they have quality on both sides of the football.
It seems that Jackson also recognizes the skill set that his Ravens DL brings to the table and wants him to stay with the team.
ADVERTISEMENT
Article continues below this ad
Campbell is a true believer in Jackson and his greatness and was quoted saying, "Man, it's special. He's just scratching the surface on how good he can be. I think he's still 24 years old." The comments came following a Ravens comeback victory over the Indianapolis Colts. Jackson was efficient and effective on offense as he finished the game 37-of-43 for 442 yards.
ADVERTISEMENT
Article continues below this ad
In the process, the Ravens QB became the first QB with more than 400 yards and a completion percentage above 85 percent in the same game. If the NFL fans will be receiving that version of Jackson in the upcoming season, then Campbell might prefer to stay put in Baltimore. The decision is firm with the DL Campbell, who would be looking to win now irrespective of whether he stays or departs.
Watch This Story: Patrick Mahomes and Brittany Matthews Enjoy Lavish Bachelor and Bachelorette Parties Ahead of Their Wedding