"[He] is a very calculated individual" – Players Open Up about Dallas Cowboys Star's Poise
Published 06/21/2020, 3:13 PM EDT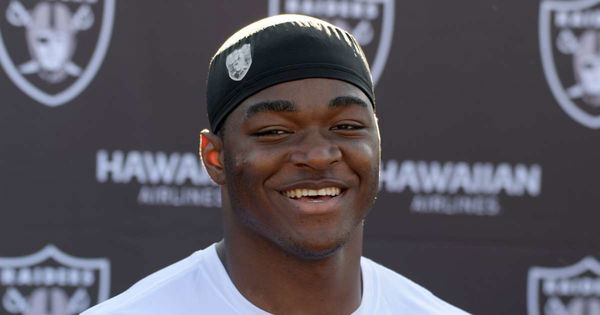 ---
---
Dallas Cowboys wide receiver, Amari Cooper has had a consistently strong career (except 2017, perhaps) since he started out in 2015. The Oakland Raiders picked him fourth overall in the 2015 NFL draft. Cooper has over 5,000 receiving yards and 33 touchdowns since. After moving to Dallas, the WR's numbers have only gone upwards. He has been delivering Pro-Bowler like performance and was even ranked sixth among wide receivers for the 2020 season by CBS Sports.
ADVERTISEMENT
Article continues below this ad
Is Amari Cooper NFL's Kawhi Leonard?
It is perhaps his steady performance without any pomp that made his Texan counterpart, Randall Cobb compare him to NBA star, Kawhi Leonard. Leonard is a reigning NBA Champion and Finals MVP. He is known to operate in silence while being the best.
ADVERTISEMENT
Article continues below this ad
"When it comes to his game, he's a quiet assassin. He makes the plays and just goes about it… That's who he is. That's his personality," Cobb told the Dallas Morning News in November, last year.
Amari Cooper knows how to keep himself composed
Cooper had enough reason to show excitement and scream at the top of his voice in almost every game in 2019. Instead, he chose to remain calm and focus on his game. "He doesn't say too much," Cowboys wide receiver Michael Gallup said. "It's normal for him. Catching crazy passes like that for touchdowns, deep balls, that's what he does. I mean, it doesn't really excite him anymore until we get on the sideline and he tells us how he did it. Then he'll laugh about it."
"He doesn't like to celebrate. [Amari] likes to play football. He doesn't do it for the attention," Cooper's former teammate and side cornerback Byron Jones said.
ADVERTISEMENT
Article continues below this ad
Cowboys cornerback Chidobe Awuzie believes "Amari is a very calculated individual." Cooper and Awuzie play chess in the locker room. "He definitely understands the magnitude of the plays he makes. But Amari also is a very, very confident individual as well. He expects to make those plays. Those are just regular plays to him. You rarely see him celebrate because he's made those plays before plenty of times in this league, and it's just another one of those days for him."
"If he has a match or argument against anybody in this locker room, if he outwits you or does something like that, that gets him pretty juiced," Awuzie added. "Any of his conversations or any of the games we play — hamper ball or chess — that he wins… or if he baited you into betting him something, he'll get pretty jubilated about that. He'll let you know."
Injuries and contract with the Dallas Cowboys
ADVERTISEMENT
Article continues below this ad
Cooper had been dealing with minor injury through the 2019 season until he took a more serious knee injury back in November while playing against the Buffalo Bills. He called the injury "manageable" and had 85 receiving yards in that game.
Earlier this year, Amari Cooper signed a contract extension with the Dallas Cowboys for $100 million. This will keep him there till 2024. Here's hoping to see more of his excellent plays this season.