"He Looked Miserable": 45-Year-Old Tom Brady Leaves Boston Journalist Questioning, Is the GOAT's Mind Still Swimming With the Dolphins?
Published 08/13/2022, 6:30 AM EDT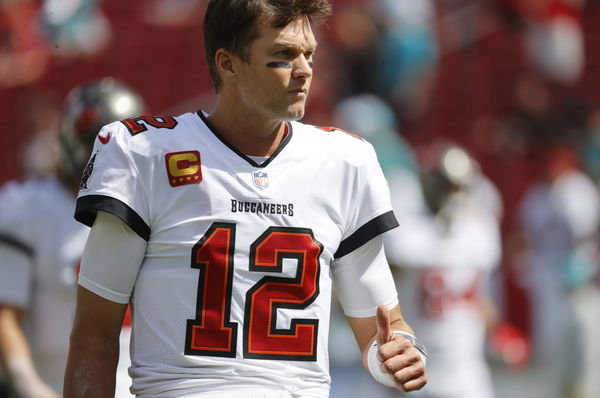 A day without some Tom Brady update may not complete the day. As the training camp and preseason began, TB12 made a shocking move. He pursued a leave of absence to deal with some personal affairs. It brings out a slew of theories among the media personnel. However, a Boston Journalist is concerned about something else.
ADVERTISEMENT
Article continues below this ad
NFL Writer Ben Volin joins Colin Cowherd on The Herd to discuss the most recent Tampa Bay developments. Volin has been watching the Buccaneers' training session from the sidelines, and he tells Colin that Tom Brady appears unhappy. It does not shock him that the QB will miss training.
ADVERTISEMENT
Article continues below this ad
Ben Volin mentions, "There are definitely signs that maybe his head isn't fully into it. I try not to be the body language police, but I was out at Bucs practice yesterday, and he looked miserable. I don't think he loves the humidity here in Tampa. It is very swampy out here every morning."
"His buddy Gronk, has retired. You know, that's his running mate, that's his guy now. He looks all over the field. He's throwing a Kyle Rudolph, and Chris Godwin's banged up. We're not sure when he's gonna be himself again. His set The Brady Center goes down, there's just a lot of things going on with the team."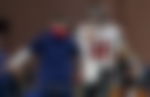 Volin's observations might be a concern for the Buccaneers' enthusiasts. Probably that is why Tom Brady took some time off from practice to spend time and rejuvenate. But the Boston Reporter has more questions that involve Brady getting his hands on an NFL franchise.
Ben Volin gives insights on tampering plot and Tom Brady taking a leave
ADVERTISEMENT
Article continues below this ad
During the show, Ben Volin also points out Brady's liaison with the Miami Dolphins and the prospect of his purchasing an NFL franchise. In his opinion, playing for the Bucs was not Tom's top priority this year. He'd be in charge of the Dolphins, and the sole reason he returned to the Bucs was that he had no other alternatives. They assumed that Tom Brady had changed his mind and would now retire.
There have been three instances in NFL history where a team was forced to forfeit a 1st round pick, and all involve Tom Brady or his team:

2008 Patriots – "Spygate"

2015 Patriots – "Deflategate"

2022 Dolphins – Tampering with Brady, who was under contract with the Patriots pic.twitter.com/XipzRqk56K

— CBS Sports (@CBSSports) August 2, 2022
ADVERTISEMENT
Article continues below this ad
While Tom Brady and Sean Payton face no penalty from the NFL, a lot of questions encircle them. For the GOAT, it is the second time that he becomes a part of a major scandal. But it all comes down to just one thing. Will Tom Brady have the fairytale ending? It is subject to witness.
Watch This Story: Tom Brady Went to the Same High School As This Controversial MLB Hall of Famer Who Was Also a 14x All Star
Edited By: Gurjyot Singh Dadial