'He Really Chose Stafford over Rodgers?': Fans WRECK OBJ and Los Angeles Rams After Embarrassing Loss to 49ers
Published 11/16/2021, 5:32 AM EST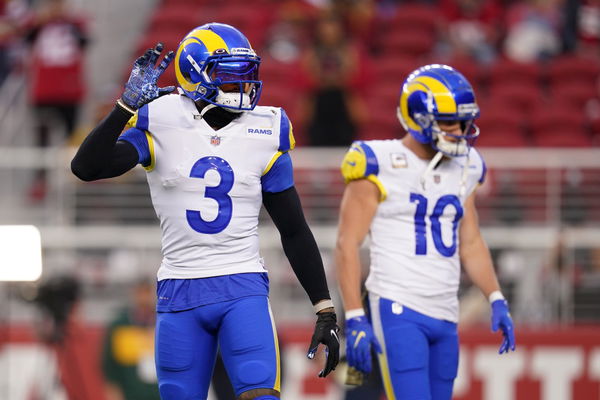 ---
---
With a 10-31 loss to the San Francisco 49ers, the Los Angeles Rams resumed their losing skid. While the Rams defence was bowled over all night by San Francisco's running backs, their offense looked even clueless.
ADVERTISEMENT
Article continues below this ad
Jimmie Ward intercepted Matthew Stafford twice in the match, due to which the latter could only return for a touchdown. To make matters worse, Stafford looked completely out of sorts with OBJ as well. All in all, the Rams had another terrible game because of a combination of offensive miscues and defence inability to get off the field.
ADVERTISEMENT
Article continues below this ad
Stafford-OBJ partnership a colossal flop for Los Angeles Rams
Stafford appeared to be out of rhythm in the offence for the second week in a row, as several of his throws were off-target. He finished with 243 yards throwing, a touchdown, and two interceptions on just 26 of 41 attempts. It didn't help that several of his key receivers had a case of the drops at different times throughout the evening.
Stafford also appeared to have a misunderstanding with Beckham, who was making his Rams debut after signing on Friday. Stafford appeared to expect Beckham to continue moving deep up the centre of the field on a broken play, but he was delayed for a time. Due to this, Stafford's throw was thrown off, and Ward was able to put himself under the ball to make the pick.
Interesting decision making from Matthew Stafford 🤨

— The Action Network (@ActionNetworkHQ) November 16, 2021
San Francisco 49ers create history after shocking win over the LA Rams; Twitter reacts
The San Francisco 49ers have won a game at home for the first time in 393 days. The team's most recent victory was a 31-10 thrashing of the Los Angeles Rams on "Monday Night Football." While credit must be given to the 49ers for the win, one cannot ignore the fact that it was more of a Rams loss than a 49ers win.
San Francisco's win was mainly due to their ruthless approach to the game. They assertively imposed their will on the Rams right away and capitalised on their mistakes; thus earning a historic victory over the Rams.
Owing to this surprise victory, Twitter had a field day trolling the Rams and OBJ. Here are some of the best tweets –
Matthew Stafford is playing like a Detroit Lion

— NFL Memes (@NFL_Memes) November 16, 2021
Matt Stafford played tonight like a guy who's 0-3 in playoff games, who's never been in the national spotlight, who's now suffering the Odell Effect – the pressure to get the ball to a guy who's production no longer measures up to his media magnitude.

— Skip Bayless (@RealSkipBayless) November 16, 2021
Unofficially nine dropped passes for Matthew Stafford tonight, six from the Rams and three from the 49ers

— Steve Palazzolo (@PFF_Steve) November 16, 2021
ADVERTISEMENT
Article continues below this ad
ADVERTISEMENT
Article continues below this ad
Tough day for Stafford tonight!