"He Really Is a Preacher": Reports of Russell Wilson and Ciara's Dubious Charity Financials Creates Massive Wave of Interest From NFL World
Published 02/10/2023, 11:41 AM EST

Follow Us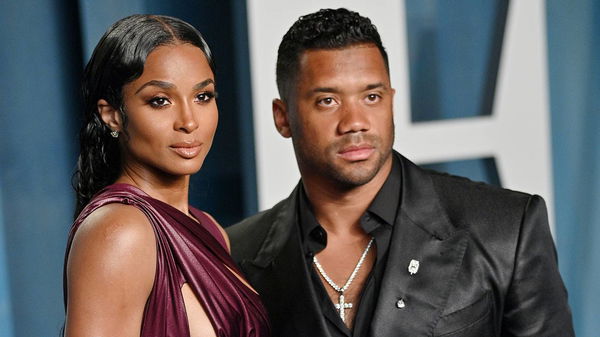 Over the years, Russell Wilson has been well-regarded because of his charitable endeavors. Alongside his wife Ciara, the QB started a charity known as the 'Why Not You Foundation.' But what was once commended is now being called into question.
Wilson has come under scrutiny because of an issue pertaining to not making the best of the charity's resources. As a former Walter Payton Man of the Year Award Winner, this recent investigation casts the QB in a negative light. So, what went wrong with the charity?
The spotlight is on Russell Wilson
ADVERTISEMENT
Article continues below this ad
In a recent investigation by USA Today, Wilson's charity was brought under the microscope.
Looking into charities established by Walter Payton Man of the Year Award winners, the investigation reportedly made certain discoveries. According to the report, the QB's foundation spent $600,000 in 2020 and 2021 on noteworthy causes. But, they spent considerably more on the salaries of employees.
The disproportion between donations and salaries raised some red flags. The report suggests that the foundation spent only 24.3 cents of every dollar it received on its charitable endeavors. Here's what fans had to say on the issue.
The NFL world reacts to Wilson coming under scrutiny
The NFL world didn't need another reason to take shots at Russell Wilson. After a dismal season sprinkled with extensive usage of 'cringe phrases,' fans took to Twitter to, once again, mick the QB. This user sardonically said.
Another user believes that most charities work this.
This fan asked.
Another user stated.
This fan exclaimed.
ADVERTISEMENT
Article continues below this ad
Another user proclaimed.
Very few professional athletes have fallen from grace as remarkably fast as Russell Wilson. 📉

— GamblingSiteFinder.com (@gmblngsitefindr) February 9, 2023
ADVERTISEMENT
Article continues below this ad
This year hasn't been the best for Russell Wilson. His dismal performance largely contributed to the criticism he has been receiving. As of now, the QB is yet to address recent reports. As Wilson takes on the offseason, he will look forward to putting everything in the past as he embarks on a new chapter with Sean Payton at the helm of the Broncos' affairs.