"[He] Still Has it" – Carolina Panthers LB on Cam Newton Signing with Patriots
Published 07/02/2020, 1:54 PM EDT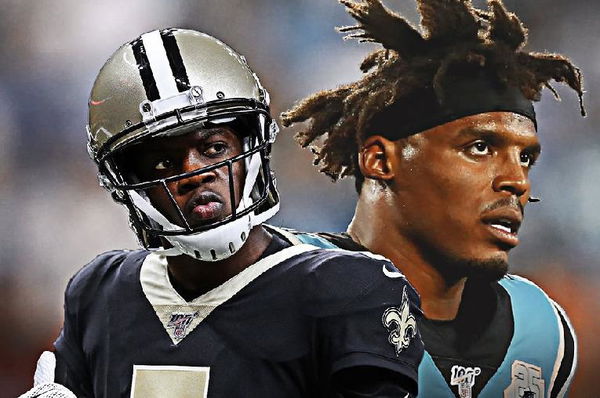 ---
---
The Carolina Panthers have been through a lot of change this offseason (yes, that Cam Newton will be playing in 2020 is perhaps most important). As a consequence, the team will have to gear up quite a lot for the upcoming season, especially due to the pandemic making this offseason virtual. They certainly have an exciting year ahead of them!
ADVERTISEMENT
Article continues below this ad
The Panthers have a new head coach and a new quarterback. Matt Rhule, the team's new head coach was formerly the head coach at Baylor University. He started out as a defensive coach but has also coached quarterbacks.
Panthers' linebacker on changes on the team
ADVERTISEMENT
Article continues below this ad
Carolina Panthers linebacker, Shaq Thompson told NFL Network's Colleen Wolfe that "[Matt Rhule is] for the guys. He's for the players. He's for everything we stand for [both] on and off the field." It is typically during the offseason when new coaches and players get to know each other better. But since that hasn't happened this year, the Panthers have been connected virtually. And Coach Rhule has been doing his best to be there for his team. " 'I'm here to make your needs or whatever you guys want come true.' But we are also here to win games," added Thompson.
On the Panthers' new quarterback, Teddy Bridgewater, Thompson said that he thinks Teddy will definitely change the offense. "He has great weapons. His start with the Saints, 5-0, was just incredible. It just shows you that the Teddy that Minnesota had drafted back then is back. I'm happy to see that. I've always been a fan of Teddy, especially when he was at Louisville. So, I'm happy to have him as a teammate. I know that he has a lot of tremendous weapons around him and we built that offensive line so he could feel comfortable in the pocket."
ADVERTISEMENT
Article continues below this ad
The linebacker also talked about former teammate Cam Newton signing with the New England Patriots. "I hated that it took so long for him to get signed. He's an MVP quarterback. Cam still has it. And I'm happy for him, I'm glad the Patriots invested in him and I can't wait to see Cam Newton come out there and play," he said.
ADVERTISEMENT
Article continues below this ad
Cam Newton and his new deal
A new report claims that Cam Newton's one year contract with the Patriots isn't the most lucrative one. He has been guaranteed only $550,000 along with a $1.05 million base salary, according to CBS Sports' Jason La Canfora. However, he could earn up to $7.5 million through incentives. While this is a great deal for New England, an MVP caliber talent like Newton certainly deserves much more.