"He Wants Everybody To Be On His Puppet String.": Skip Bayless Takes 'Undisputed' Shots at Aaron Rodgers
Published 01/01/2022, 11:53 AM EST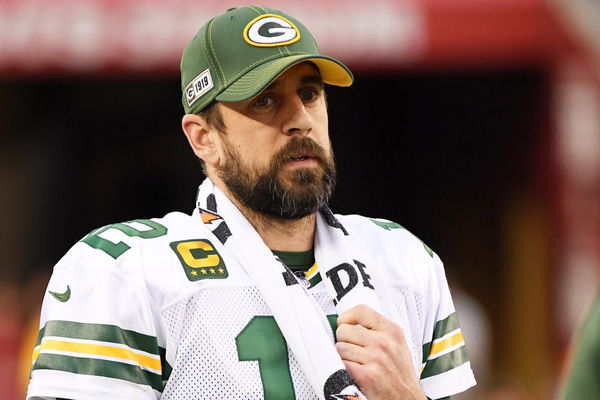 ---
---
The recent episode of FOX Sports shows 'UNDISPUTED' was the one to watch. The recent building up of Aaron Rodgers' retirement rumors did not sit well with a couple of analysts. These analysts are none other than Skip Bayless and NFL legend Shannon Sharpe. 
ADVERTISEMENT
Article continues below this ad
Both the co-hosts of UNDISPUTED have a really big problem with Aaron Rodgers and his attitude. They do not appreciate how he treats his fans and teammates. Skip Bayless has even straight-up called Rodgers MVP stats overrated.
ADVERTISEMENT
Article continues below this ad
But when Rodgers started to hint at retirement after this season, that was it for Skip. He fired all cylinders and aimed them at Aaron Rodgers.
Is Aaron Rodgers the puppet master?
After recently being in the MVP picture, Aaron Rodgers started to comment on retirement. He said that he wouldn't rule that possibility out just yet. Rodgers said that he would like to enjoy this season as it is. Playing next year is still up in the air. This process of keeping the team and fans in the grey does not sit well with the hosts of 'UNDISPUTED'.
Aaron Rodgers says that being able to play at a good level is important to him. Skip Bayless' partner Shannon Sharpe thinks that this is just Rodgers' desperate attempt at getting some attention.
Rodgers then went on to express his love for football. He believes that this year has taught him that he can still play well. Rodgers still has a lot of love for this game. He still has a super competitive attitude and enjoys the weekly process. Not being able to practice takes a toll on his body. It's tough to be out there without practice. It's a weekly process. 
Skip Bayless' reaction to Rodgers' comments
ADVERTISEMENT
Article continues below this ad
Skip Bayless personally did not appreciate these moves made by Rodgers. He said, "You got a really, really good football team, you can make a case, what I just outlined for you is the best team in pro football."
Addressing Rodgers' retirement comments Skip said, "And he's saying this late in the year. 'I don't know. I'm not saying I want to retire. But you never know. I'm not saying I would demand a trade. But you never know what would happen.' Because he wants everybody to be on his puppet string, just in case he needs to yank that puppet string again."
ADVERTISEMENT
Article continues below this ad
Skip does not appreciate this attitude of Aaron Rodgers one bit. Rodgers wants everyone to be at his command. He wants to control everybody's emotions. Do you agree with Skip's views on Rodgers? Is he really trying to put everybody on his puppet string? Comment below!
Watch Stories: Aaron Rodgers, Cooper Kupp and more; NFC Players of the Month from December 2021