"He Was Like, 'Baby I Like You'": Keyshia Cole Reacts to "Harsh" Comments Made by Antonio Brown on Her AB Tattoo; Gets Candid on Their Relationship
Published 05/17/2022, 4:00 PM EDT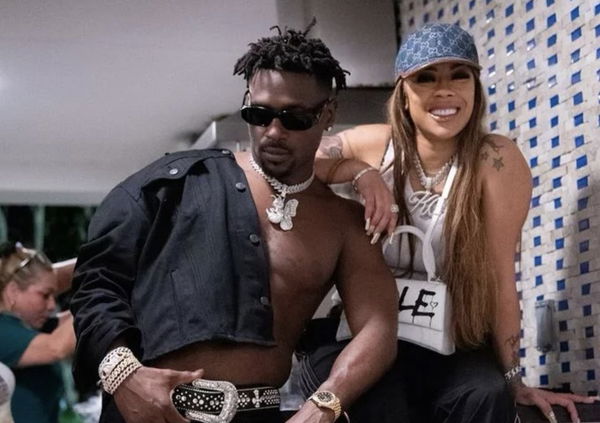 Antonio Brown has been making headlines recently for his feud with fellow singer Keyshia Cole. The former Tampa Bay Buccaneers wide receiver took to Instagram to share a clip presumably of Keyshia Cole rocking an AB tattoo with a caption so inappropriate that made Cole change her perspective around him.
"You Ain't Pimpin Until You Hit An RnB Diva' #FreeAgent #KeepPimpin," the caption read. After the post went viral, Cole felt disrespected by a person she liked. Although the relationship that the two shared was not confirmed, however, rumors stayed afloat about them dating each other, especially after the two collaborated for 'Paradigm'. Keyshia was also seen missing AB on her Instagram story recently.
ADVERTISEMENT
Article continues below this ad
Keyshia Cole gets candid about her relationship with Antonio Brown
After AB's derogatory comments, Cole opened up about her relationship with him during her IG live with celebrity stylist EJ King. "I think he made it very clear that he didn't want to receive it. He was like, 'Baby I like you,' at first and now," Cole said. "I think maybe that's just what it is. My point wasn't even for that to be like, for us to discuss that more. It was just that—it was harsh. It was a little harsh… Maybe he don't know that it was a little harsh for him to say that."
 

View this post on Instagram

 
She even posted a story intended for AB, writing, "Had so much respect and admiration fa you. Guess that wasn't mutual either."
Shots were fired from both sides
Later, Keyshia Cole's sister Neffeteria also took to Instagram to post a story, writing, "Why do we let [clowns] that look like this Disrespect Women!" with a picture of AB in the background.
ADVERTISEMENT
Article continues below this ad
Furthermore, AB's wife Chelsie Kyriss in the midst of this ongoing fiasco, replied to a comment, "We [her and AB] are not together love!" She added: "She [Keyshia] needs to put her hands on him for such a disrespectful post!"
 

View this post on Instagram

 
ADVERTISEMENT
Article continues below this ad
And now in a recent development on the drama, AB came live on IG to fire shots at Keyshia Cole and his "haters". With things escalating so quickly, who knows what lies ahead for them.
Watch This Story: How Many Kids Does Notorious NFL WR Antonio Brown Have?