"He Works His Tail Off"- Tampa Bay WR Chris Godwin Appreciates the Hustle Shown by Antonio Brown
Published 01/05/2021, 5:15 AM EST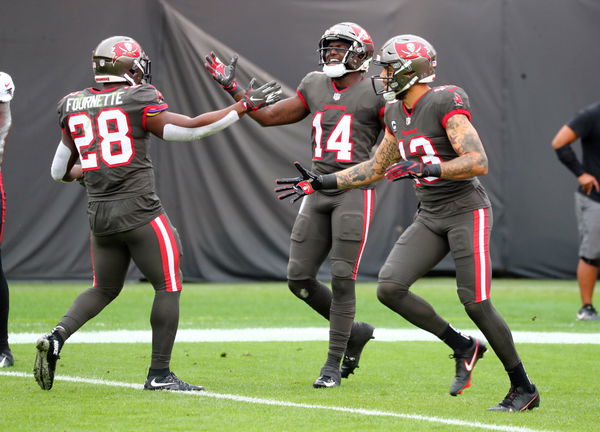 ---
---
The Tampa Bay Buccaneers defeated the Atlanta Falcons 44-27 on Sunday. This victory got paved the way for them to burst into the opening round of the Playoffs.
ADVERTISEMENT
Article continues below this ad
With this victory, the Buccaneers got a regular-season record. What's more, they also managed to secure the top Wild Card spot. They got themselves the 5th seed. The first round of the Playoffs gets the 5th seed against the 4th, the 6th against the 3rd, and the 7th against the 2nd.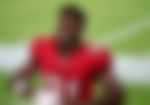 Antonio Brown has been at an all-time high. On Sunday, Brown and Godwin's team-up was amazing. Together, they caught a total of 16 catches for 271 yards catches with 4 touchdowns.
ADVERTISEMENT
Article continues below this ad
Out of the 16 catches 11 were made in the second half of the game, touching 179 yards. This was the best game for Brown with his new team. He managed 11 catches for 138 yards and 2 touchdowns.
Chris Godwin praises Antonio Brown
On Sunday, in a post-game interview with Buccaneers' wide receiver, Chris Godwin talked about Brown. "It's been really really cool, seeing them from afar for you know for so many years and seeing them dominate you now and then coming in after having a year off and uh, just watching him kind of get his feet back underneath him has been really, really cool," Godwin said.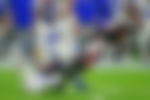 Godwin also talked about the love Brown has for the game and how passionate he is. He also told the press it's mainly his confidence, if it's on a high level well, it drives his passion higher.
"He works his tail off, he loves the game of football. And just seeing a guy with that much passion come in and make some plays, the more plays he makes, the more excited he gets, the more passionate he is — that type of stuff is really infectious for the rest of us,"
said
Godwin.
As the 5th seed, the Buccaneers will be facing the 4th-ranked team of the division winners. As per schedule, they are supposed to battle it out against the Philadelphia Eagles, followed by a bloodbath against the Washington Football Team.
ADVERTISEMENT
Article continues below this ad
ADVERTISEMENT
Article continues below this ad