Here are the 5 key takeaways from Week 1 of NFL preseason
Published 08/16/2021, 9:33 PM EDT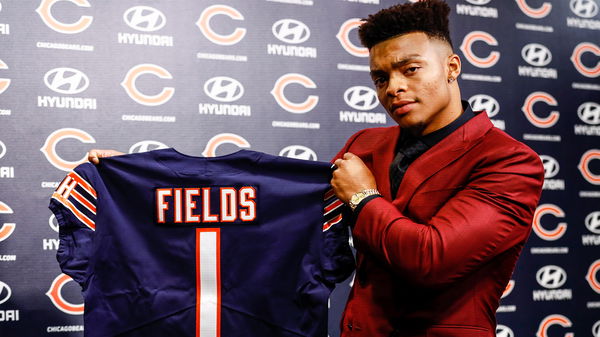 ---
---
The first week of the 2021 NFL preseason kicked off seven days ago. All 32 teams have played at least one set of games as they prepare for their campaign opening games in September 2021. Players seem determined to prove their worth to their respective coaches as fans get ready to return to the stadiums.
ADVERTISEMENT
Article continues below this ad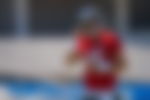 Of course, all eyes were on the rookies who made their debuts in the last week. The 2021 NFL Draft class boasts a talented bunch of quarterbacks including #1 overall pick, Trevor Lawrence.
ADVERTISEMENT
Article continues below this ad
However, there was much more that went down in the world of football since last Monday. Here are the top 5 moments from Week 1 of the NFL preseason.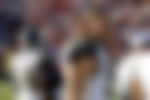 Top Five Highlights from Week 1 of the NFL Preseason
Justin Fields favourite for the QB 1 role in Chicago?
Justin Fields was selected by Chicago Bears as the 11th overall pick at the 2021 NFL Draft. He was picked ahead of National Championship winner Mac Jones and University of Florida's Kyle Trask.
Coach Matt Nagy previously claimed that veteran Andy Dalton will be QB1 this season. But after watching Justin in the preseason, fans will be eager to see him start instead. Fields went 14 of 20 passing for 142 yards in the win against the Miami Dolphins. That included a 30-yard touchdown pass to Jesse James. The former Ohio State Buckeyes man also rushed for 33 yards and a score on five carries that included a 21-yard dash.
Jordan Love finally makes his first appearance for Green Bay Packers
All the noise this offseason has been centred around Green Bay Packers and star quarterback Aaron Rodgers. But it was young quarterback Jordan Love who grabbed headlines last week.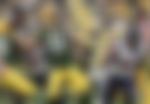 Now entering his second year in the NFL, Love was handed his first minutes on the field in the preseason game against the Houston Texans. Love completed 12 of his 17 attempted passes, throwing for 122 yards with 1 passing touchdown. But the Packers still lost by a humbling 7-26 scoreline at Lambeau Field.
New Orleans Saints quarterback competition in deep trouble
Quarterbacks Taysom Hill and Jameis Winston both knew that the starting berth is up for grabs this season following the exit of the legendary Drew Brees. However, the pair failed to impress in the opening pre-season fixture against the Baltimore Ravens.
Hill started the game and went 8 of 12 passing for 81 yards with an interception. However, his night came to an early end after a third-down sack by Patrick Queen.
Winston completed 7 of his 12 attempted passes for 96 yards that included an 8-yard touchdown pass to Lil'Jordan Humphrey. Coach Payton will be scratching his head wondering how to get the best out of his two QB prospects.
Teddy Bridgewater, Drew Lock impress for Denver Broncos
Veteran NFL quarterback Teddy Bridgewater signed for Denver Broncos in the offseason after a disappointing end to his tenure with the Carolina Panthers. Coach Vic Fangio was adamant that both Drew Lock and Bridgewater are not 'guaranteed' starters in 2021.
Both quarterbacks put in a solid shift as the Broncos comprehensively defeated the Minnesota Vikings by a 33-6 scoreline. Drew registered a perfect passer rating while completing 5 of 7 passes with 151 yards and 2 TDs. Meanwhile, Teddy completed 7 of his 8 attempted passes, throwing for 74 yards that included a 4-yard touchdown pass to Trinity Benson.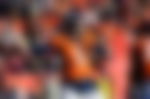 "I thought they both played very well. They kind of validated what I've been saying all camp, that they're 'Even Steven.' … I don't think any separation happened in this game if anybody is looking for it," Fangio said, via The Denver Post.
Dwayne Haskins tipped to challenge for Pittsburgh Steelers starting spot
ADVERTISEMENT
Article continues below this ad
After his dismal time with Washington Football Team and coach Ron Rivera came to an abrupt end last season, former NFL first-round pick Dwayne Haskins is determined to prove his doubters wrong. Haskins put on quite a show as he helped the Steelers fight from a 13-0 deficit against the Philadelphia Eagles.
ADVERTISEMENT
Article continues below this ad
The Pittsburgh Steelers quarterback orchestrated four consecutive scoring drives that included a 22-yard TD pass to Anthony Johnson. He concluded his successful debut throwing for 161 yards on 16 of 22.