Here's How Texas A&M Product Mike Evans was Drafted by Tampa Bay Buccaneers
Published 01/27/2021, 9:45 PM EST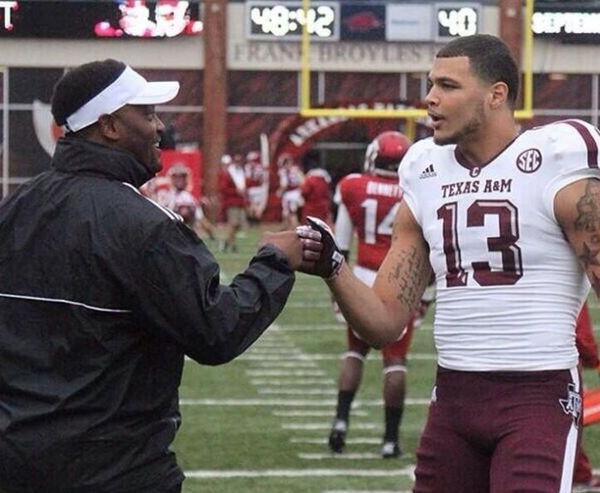 ---
---
There are a lot of things that need to go right in order to make it big in the NFL. You need physical prowess, god-given talent, a disciplined work routine, and of course, a little bit of luck. It's safe to say that Tampa Bay Buccaneers WR Mike Evans did not have the right mixture of these ingredients. Well, at least not at first.
ADVERTISEMENT
Article continues below this ad
Evans had a tough childhood. He was born to Mickey Evans and Heather Kilgore. At the time, his mother was just 14 years old, Mike's father was murdered when he was just 9. What made things worse was that it was his mother's brother, Sam Kilgore, who killed his dad. Sam took the drastic step in order to protect his sister, whom Mickey used to physically abuse on a regular basis.
Undoubtedly, a rough childhood is what made Mike the man he is today. Like a diamond in the rough, Evans began to learn from his shortcomings and is now one of the top 10 wide receivers in the NFL. But where did it all begin for the Buccaneers speedster?
ADVERTISEMENT
Article continues below this ad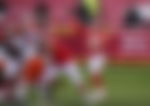 Mike Evans grabs headlines after a stellar season with Texas A&M in 2013
The Texas-born athlete was making waves during his senior year in high school. Mike Evans played for Ball High School in Galveston, Texas. He also played basketball and participated in track & field events in high school. Watching him gain traction, he was recruited by Texas A&M in the summer of 2011.
Over the next two years, Evans would set multiple records for the Texas A&M Aggies football team. Between 2011 to 2013, Evans had 82 receptions for 1,105 yards and five touchdowns in 2012. He received freshman All-SEC honors from the league's coaches. He held the Texas A&M record for the most catches. He had 11 receptions for 287 yards and four touchdowns in the 2013 win against Auburn.
Evans later revealed that he would forgo his final two seasons of collegiate eligibility and enter the 2014 NFL Draft. Various outlets predicted that Mike would be picked in the first round itself. He was also ranked the number one wide receiver by Sports Illustrated.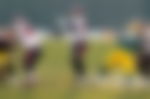 Tampa Bay Buccaneers draft Evans in 2014; Rest is history
On the back of a strong season with Texas A&M, the Buccaneers moved quickly to draft Mike Evans in the first round of the 2014 NFL draft (seventh overall). He was the second wide receiver to be picked after Buffalo Bills drafted Sammy Watkins at number four.
ADVERTISEMENT
Article continues below this ad
Evans was one pick behind Texas A&M teammate, Jake Matthews. It was the first time that the school had two Top 7 draft picks in the same draft since John Kimbrough and Jim Thomason in 1941. Evans signed a four-year rookie contract worth $14.6 million, with an $8.96 million signing bonus with Tampa Bay.
Since then, he has established himself as one of the most consistent wide receivers in the league. He is a three-time Pro Bowler and holds various franchise records for the Buccaneers. On the back of some stellar displays, the Pirates got Evans to sign a five-year extension worth $82.5 million, with $55 million guaranteed.
ADVERTISEMENT
Article continues below this ad