Here's Why Aaron Rodgers Claims He's Jealous of Titans Quarterback Ryan Tannehill
Published 12/30/2020, 8:50 AM EST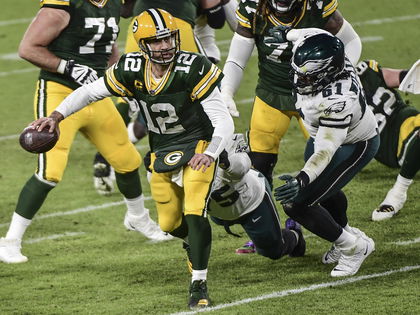 ---
---
Coach Matt LaFleur deserves credit for what he's doing with the Green Bay Packers. Since coming in 2019, LaFleur has brought out the best from the Packers. If they beat the Chicago Bears on Sunday, they will bag the number one seed for the playoffs. It all has to do with the performance of quarterback Aaron Rodgers over the last four months.
ADVERTISEMENT
Article continues below this ad
The Packers were at it again in Week 16 as they made their way to a fine victory against AFC South big boys, Tennessee Titans. The Wisconsin-based franchise registered a 40-14 win over the Titans in the frozen Tundra. They are now on a 12-3 record heading into the final game of the regular season.
But in spite of a strong win on Sunday, Rodgers still envies rivals quarterback Ryan Tannehill for this particular reason.
ADVERTISEMENT
Article continues below this ad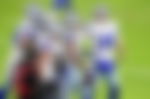 Aaron Rodgers wants to make plays like Titans QB Ryan Tannehill
Packers QB Aaron Rodgers made his weekly appearance on The Pat McAfee Show on Tuesday. The former Indianapolis Colts kicker was quick to interrogate Rodgers about his performance from Week 16. While lauding Rodgers' overall display, McAfee brought up his swift movement on snow-covered terrain at Lambeau Field. Here's what Rodgers replied.
ADVERTISEMENT
Article continues below this ad
"I feel I'm pretty, I get faster in the snow, I feel like it…but I must admit, I get a little jealous. I watched Tannehill get to do some, you know, real awesome stuff. He ran 50 yards to a touchdown so I'm still waiting, still waiting for my opportunities to do that. Throwing passes, the other quarterbacks get chances to catch passes. All I do is sit in the pocket and break defenses man," Rodgers told Pat on the show.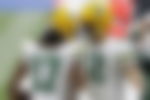 Of course, there was a hint of sarcasm towards the end of that quote. But knowing Mr. Rodgers, he's just being himself and having fun out there on the field with his Packers brethren. It will be interesting to see if Rodgers can maintain this camaraderie in the post-season. With the Packers being tipped as potential Super Bowl contenders this year, the onus will be on Aaron to come through. Let's hope he steps up when it matters most, for the sake of Packers' fans.
ADVERTISEMENT
Article continues below this ad