"He's Absolutely Gonna be an MVP Candidate" – NFL Analyst on Tom Brady
Published 06/15/2020, 2:25 PM EDT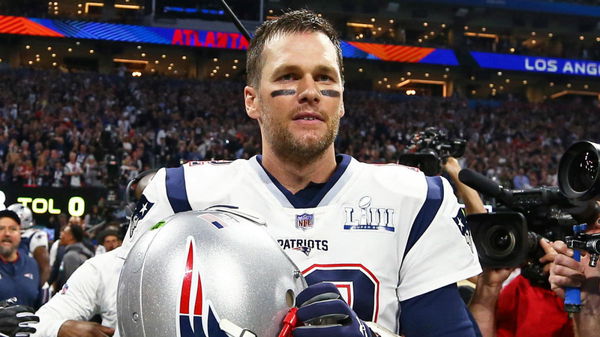 ---
---
Recently, former NFL defensive end, Marcellus Wiley spoke about Tampa Bay Buccaneers player Tom Brady. He firmly believes that Brady is capable of becoming the Most Valuable Player (MVP). He admitted that Brady should be judged based on the caliber of his teammates.
ADVERTISEMENT
Article continues below this ad
Further, he insisted that there was just one occasion where his teammates were as strong as he was. However, in the current situation, he is linking up with some of the best players outside of Kansas City. He said, "They have what they need. Let's go back to some less memorable times with Tom Brady, 2006. You remember that was my last year in the league and Tom Brady throwing 24 touchdowns, 12 interceptions and 3500 yards."
However, he then said, "But then, Randy Moss showed up. He threw 50 TDs, only 8 Ints and 4800 yds and only lost 1 game in the Super Bowl to the NY Giants and that's when you gave him ONE next level weapon; he has more than one now."
ADVERTISEMENT
Article continues below this ad
ADVERTISEMENT
Article continues below this ad
What else did he say about Tom Brady?
According to Wiley, this kind of situation is perfect for Tom Brady. He has a coach who encourages him to simply close his eyes and just throw the ball.
With the 2020 NFL season close, the Tampa Bay Buccaneers teased images of their star signing clad in Buccaneers gear. Now, the entire NFL fanbase is eagerly awaiting an official first look of Tom Brady in the full kit. Owing to the COVID-19 crisis, this has been a strange offseason with no formal introductory press conference with a jersey pose. So, one can understand how desperate the fans are to see Brady in the Buccaneers camp.
ADVERTISEMENT
Article continues below this ad
As per an exchange between Brady and the Buccaneers, the official unveiling is set to take place on Tuesday. Suffice to say, the MVP hopeful is excited to start a fresh new chapter to his story.