"He's My Guy on Madden"- Kansas City Chiefs' New Recruit on Comparisons to NFL Legend
Published 04/27/2020, 4:30 PM EDT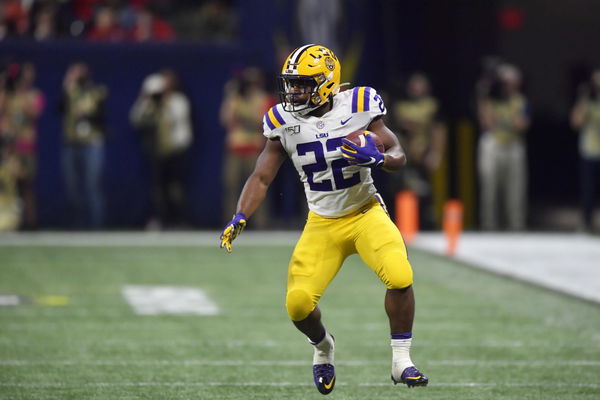 The Kansas City Chiefs recruited LSU running back Clyde Edwards-Helaire into their squad as their first round pick. Head coach Andy Reid kept a close eye on Edwards-Helaire during the draft process, and pounced on him when he became available.
To Edwards-Helaire's delight, Reid drew comparisons between himself and Brian Westbrook. Reid and Westbrook worked alongside each other for eight years when they were with the Philadelphia Eagles. Aside from Andy Reid, General Manager Brett Veach and quarterback Patrick Mahomes also expressed interest in Edwards-Helaire.
"This is a great story," ESPN's Adam Schefter said. "(Reid) and (Veach) reached out to Patrick Mahomes before the draft. They said, 'Patrick, when you study this, who is the one guy that you'd like to see us take?' He said, 'Coach, the one guy that I think would be unbelievable in our offense is Clyde Edwards-Helaire.'"
ADVERTISEMENT
Article continues below this ad
What convinced the Kansas City Chiefs that Edwards-Helaire was their man?
ADVERTISEMENT
Article continues below this ad
As it turns out, Edwards-Helaire can run and catch out of the backfield. This made him an even hotter prospect for the Super Bowl Champions. The 21-year old Louisiana native practically became a breakout star over the past season. From 15 games, he turned 270 touches into 1,867 scrimmage yards and 17 total touchdowns.
When he spoke about the Westbrook comparison, Clyde Edwards-Helaire told Good Morning Football, "I didn't really have to look (up) anything on him. He was my guy on Madden. I used to play with (Philadelphia), and I would have Westbrook just running the numbers up on Madden."
ADVERTISEMENT
Article continues below this ad
"Being compared to him, for a guy like me, he's a great. He is in a same category for me, as far as my skillset, Barry Sanders, Brian Westbrook, Kevin Faulk, Marshall Faulk, he is in that category for me. I was absolutely ecstatic when I heard the comparison. So, now, I have to go in and show my worth."
The youngster also confessed his excitement to join the likes of Mahomes. In addition to that, the feeling has yet to sink in. He concluded, "It's still really didn't set in. I know it's going to be special. I know he is completely ready and I am completely ready. With all the weapons we have on the outside and this offense, then you add me, and I feel like everybody is just going to complement each other, and it's just going to make the game that much easier for us on offense."