"He's Never Getting That": Odell Beckham Jr. Presumed to Go Unsigned by Fans After Money Demand News
Published 03/13/2023, 4:23 PM EDT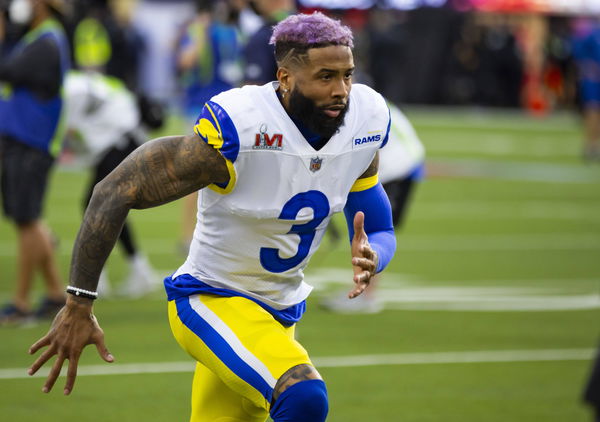 Odell Beckham Jr. spent the entire 2022-23 NFL season without a franchise after ending the year before with an ACL injury and a Super Bowl ring on his fingers. And looks like this year might be no different, albeit without the ring after he refuses to bulge in his monetary needs. Is his demand fair?
The star wide receiver wants what he demanded last year. A twenty million payout for the year. And after concerns surrounding an incomplete recovery last year, teams may be hesitant to sign off on a big contract until OBJ really proves his worth once again.
Odell Beckham Jr. is not in negotiation mode
ADVERTISEMENT
Article continues below this ad
The former New York Giants, Cleveland Browns, and Los Angeles Rams pass catcher hasn't been on the gridiron since tearing his ACL in the Super Bowl LVI win against the Bengals in February 2022. However, he looks ready after working out at Arizona State for around 13 days in front of multiple NFL teams.
And with his confidence back, 30-year-old OBJ doesn't think he deserves any less than what he demanded last year. According to Pro Football Talk's Mike Florio, "At one point during the 2022 season, a report emerged that free-agent receiver Odell Beckham, Jr. wants $20 million per year. We're told that Beckham still has that number in mind." However, fans think that with this demand and no-negotiation stand, may be he will go unsigned this off-season.
I'm seeking a $25 million contract, too. Doesn't mean I'm going to get it. OBJ won't get $20 million.

— Chris Nelson 🎥📈📰💡🌪 (@1ChrisNelson) March 12, 2023
I don't believe that

— Bryant McFadden (@BMac_SportsTalk) March 12, 2023
He's never getting that.

— Sherlon Christie (@sherlonchristie) March 12, 2023
He's not getting that kind of a contract

— Gage Tucker (@gagetucker71) March 12, 2023
Nobody is paying him that I can assure you.

— GIO (@Giofranklin33) March 12, 2023
If you love the sport, you'll take whatever you get to play it.

— Wow (@UCantBThisDumb) March 12, 2023
"It's possible that he'll do a deal that gets reported as being worth $20 million per year but that will be in fact a one-year, prove-it type deal," Florio added about the $20 million or an equivalent top-15 average annual payout. And fans simply don't see it happening after a one-year hiatus from the game.
Likely destinations for the wide receiver?
One major reason why the NFL world doesn't see a $20 million payout happening for Odell is because of what the other active receiver contracts in the league look like.
ADVERTISEMENT
Article continues below this ad
However, some teams can still benefit from the 3x Pro Bowler wideout, who even had a Super Bowl touchdown before being carted off. The Giants' return remains a possibility. However, Daniel Jones' recent four-year $160 million may not enable Odell's desired number. Also, Dallas Cowboys, who have been in an on-and-off relationship with Odell since last year, remain an option, since they still need some help for Ceedee Lamb.
ADVERTISEMENT
Article continues below this ad
WATCH THIS STORY: Tom Brady retirement rumors swirl as Dolphins reportedly show interest
New York Jets cornerback Sauce Gardner recently posted a FaceTime screenshot with OBJ with the caption, "Being the #1 recruiter in America is stressful." With Sauce possibly working his magic for Aaron Rodgers, a Broadway-bound move isn't off the table for Beckham Jr. with Gardner in the picture. Other possibilities include the Patriots, Browns, Chiefs, and the New Orleans Saints. And fans will have an answer soon enough.