"He's So Explosive"- San Francisco 49ers QB Jimmy Garoppolo Has High Praise For Rookie 49ers Receiver
Published 06/13/2020, 9:50 AM EDT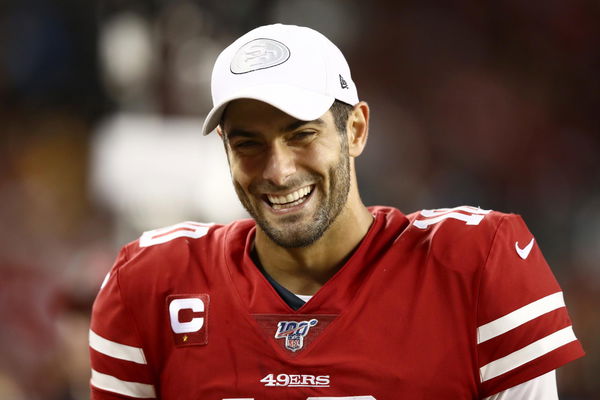 ---
---
San Francisco 49ers' Starting QB Jimmy Garoppolo had positive things to say about rookie WR Jalen Hurd. Hurd was drafted 67 overall in the 3 round of the NFL Draft and was brought in to bolster the front offense. Hurd was joining up alongside WR's Deebo Samuel and Kendrick Bourne. He was placed within second lineup in arms with Trent Taylor.
ADVERTISEMENT
Article continues below this ad
The young receiver from Baylor University has experience as Running Back in his collegiate career. Not to mention his impressive rushing numbers at Tennessee University made him a highly touted prospect.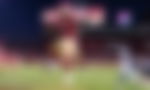 ADVERTISEMENT
Article continues below this ad
Unfortunately, Jalen Hurd would go on to play a singular game with the 49ers' after which he was sidelined due to back injury. This could be a concern moving forward considering his injury-riddled 2017 season.
However, the young receiver would go on to put up impressive numbers in a 49ers' victory over the Dallas Cowboys. Although with just a single game under his belt, Jalen Hurd has shown promise moving forward.
Jimmy Garoppolo on Jalen Hurd
ADVERTISEMENT
Article continues below this ad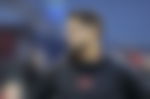 QB Jimmy Garoppolo certainly believes in the promise that WR Hurd brings to the squad. Speaking to Matthew "Matty" Burrows of The Athletic, Jimmy Garoppolo seemed excited to be working with the various tools Hurd offers.
"Jalen is very raw. He's so explosive, so powerful. There's so many little technique things, I guess you could say, he hasn't even learned yet. But he enjoys learning it. That's one of the main things I like about coming out here — when we get to talk about the stuff, you can see he's eating it up, taking it all in. And then he goes out and does it. When you have a guy like that, it makes quarterbacking very easy.
ADVERTISEMENT
Article continues below this ad
"He's someone who is not only physically capable of doing it but is willing to do it mentally. You've got to have that on a team and we've got a bunch of guys — Deebo (Samuel), (Kendrick Bourne) — I mean, those guys are fearless and you've got to respect them for that. And Jalen, he's very similar in that way."
It's safe to say having the team QB happy with his receiving options allows for more fluid gameplay. In light of the 49ers' recent success reaching the Super Bowl in 2019, the youthful ability of Hurd could be the deciding factor.