Hollywood Actor Ben Affleck Reflects on His Friendship With Tom Brady
Published 12/19/2021, 1:02 PM EST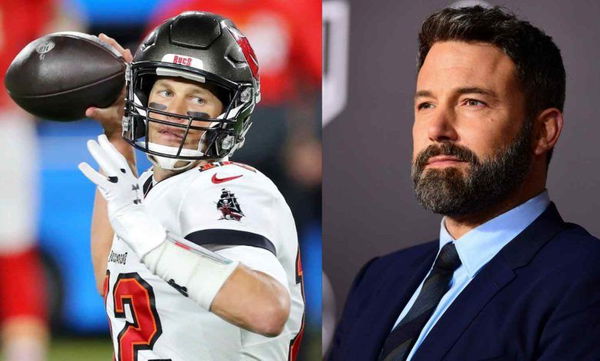 ---
---
Tom Brady, the NFL icon, and Ben Affleck, Hollywood superstar, are friends. In an interview at the 'Bill Simmons Podcast' this Friday, Ben Affleck spoke about his friendship with Tom Brady. Affleck remembered when Brady called him to play ball with him, and it was not ideal sportsmanship that Affleck had shown.
ADVERTISEMENT
Article continues below this ad
Affleck emphasized that he wished he had more in common with the NFL champion. While he was catching the ball with him he realized they both had so little in common. But after a few moments, he pondered upon things he had common with him. "So, I have some things I have in common with Tom, I like to think," Affleck added. "People both know who we are sometimes and we were in New England and that's sort of about it."
ADVERTISEMENT
Article continues below this ad
Moving on Affleck remembered how his catching session with Brady went. And his hilarious description of his encounter with the quarterback will surely make anyone laugh out loud. "After about 10 minutes, he was like 'Are you ready?'" Ben said. "I said 'Ya' and he said 'Now we'll really start throwing the ball.' I was like, 'Oh my God, are you going to dump another 30 mph on this? Because I'm very much at my peak and really trying.'"
Ben Affleck is all praises for Tom Brady
Furthermore, the three-time Golden Globe-winning actor reflected upon a special trait of the seven-time Super Bowl-winning quarterback. Ben Affleck said that he was awestruck after seeing how uniquely Brady's brain functioned.
ADVERTISEMENT
Article continues below this ad
"He doesn't have that part of the brain where he gets nervous," Affleck said. "He doesn't get tight. And by getting tight ruins him. That's why guys drop the ball on the clutch play. We've all seen it. There are famous instances. Plays they make 10,000 times."
"A ground ball, a ball right in your hands, you know these moments where you're like, 'Why did I do that? I've been doing this since my childhood.' Seattle throwing the interception (in Super Bowl XLIX), that kind of panicked uncertainty that happens when everything is on the line."
ADVERTISEMENT
Article continues below this ad
It was very special to hear the two celebrities bond in such a unique way. But what was even more interesting to see was how appreciative Ben was towards meet Tom Brady. This proves that the quarterback most certainly has a very charming presence.