"Holy Overpay": NFL World Reacts to 49ers WR Deebo Samuel Sealing a Better Contract Than DK Metcalf After Massive Drama
Published 08/02/2022, 5:30 AM EDT
The San Francisco 49ers have officially quashed all the rumors of a Deebo Samuel trade by offering him a three-year contract extension this week. Earlier, many reports claimed that despite the Niners extending an offer, Samuel was refusing all the deals and was unhappy with the way the franchise treated him. However, this new deal proved that all those speculations were a pure hoax, and the bond is still intact. This new deal also ensures him more money than his Seahawks' counterpart DK Metcalf, who signed a similar extension a few days ago.
ADVERTISEMENT
Article continues below this ad
NFL insider Ian Rapoport initially broke the news. Taking to Twitter, he mentioned that the Niners' star weapon has landed a new deal with the franchise, a 3-year extension. The 26-year-old can earn a maximum of $73 million during the tenure.
ADVERTISEMENT
Article continues below this ad
The #49ers and star weapon Deebo Samuel worked for months and get it done. He lands a huge deal — 3 year extension worth $73.5M max and $71.55M total. The guarantee is $58.1M. He'll be 29 years old entering the last year of his deal with the potential for another massive one.

— Ian Rapoport (@RapSheet) July 31, 2022
The 26-year-old is guaranteed a sum of $58.1 million, making him one of the highest-paid receivers. Although Samuel still has one year left in his rookie contract, the 49ers proved that they are always proactive enough to offer him an extension, keeping him intact for a few more years.
A similar contract extension was offered to DK Metcalf by the Seattle Seahawks this week. As per the reports, both the parties had agreed to a three-year $72 million contract.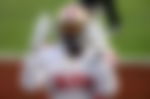 This will keep him busy through the 2025 season, and the deal was officially signed on Friday. Comparing it with Samuel's maximum salary, Metcalf had jittered a bit, but both the contracts have special perks. Metcalf's deal includes a signing bonus of $30 million, which is the highest ever for a wide receiver.
Fans believe that Deebo Samuel is being overpaid
During the past three-season with the Niners, Deebo Samuel was a multitasker. He was not just a wideout, but also volunteered for several positions on the team. The Niners selected the South Carolina alumnus during the 2019 draft class. As a rookie, he awed the fans with his 802 receiving yards in the first year and a splendid 2021 season. Surprisingly, he got named to his first Pro Bowl selection during that tenure. But fans are still unable to accept Samuel receiving such a large amount.
Another user was not pleased with the Niners giving him an extension.
Huge L for the Niners. Not even a top 25 WR. Not even the #1 WR on his team.

— Matt Naval (@pepperPhD69) July 31, 2022
While this user contradicted everyone else by saying that Samuel was underpaid.
Deebo got underpaid should be getting devante and Tyreek money instead of dk metcaff and aj brown money.

— Louis (@droopyrosario79) August 1, 2022
This user thinks Deebo Samuel is not consistent enough.
Waste, he will be injured before week 6 and miss significant time this year

— Lee "the real type of deal" (@tipeadeal) July 31, 2022
Another user mentioned that it's a lot of money for a player like Deebo Samuel.
Lotta money for a WR who never caught more never played a full season and never caught more than 6TD's in a year

— Frank Ciarabellini (@f_ciarabellini) August 1, 2022
Another user joined the discussion, claiming he was given more than he deserved.
ADVERTISEMENT
Article continues below this ad
While this user made a broad analysis of the deal.
Debo just clinched his career will be a average at best.
Not going to even get the ball as much as Jimmy G at QB…..Trey Lance has a few years of learning…If he does learn. Debo will get more rushing type plays then passes. Which will shorten his career.

— CAMUSC (@Cammaui85) August 1, 2022
ADVERTISEMENT
Article continues below this ad
With this deal, Samuel's responsibilities in the team have increased. He will be on the radar once he enters the field and hopefully fulfills the expectations of the franchise that has been bestowed upon him.
Watch This Story – Tom Brady Spills His Secret to Stay Healthy; Shares 6 Simple Steps