'Hopefully He's Healthy': Patrick Mahomes Expresses Concern for Aaron Rodgers Ahead of Packers vs Chiefs
Published 11/06/2021, 3:56 AM EDT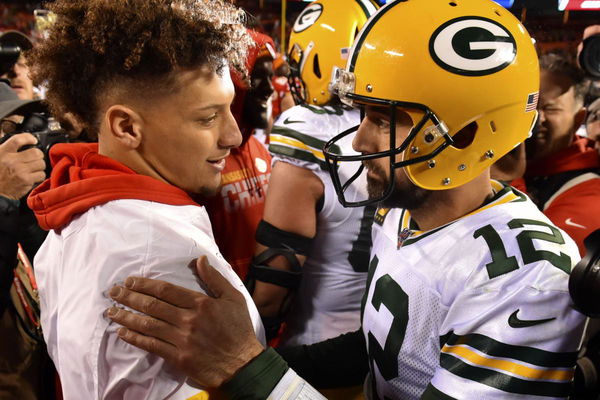 ---
---
Patrick Mahomes vs Aaron Rodgers would've been one highlight of the 2021 season. Unfortunately, we won't get it because of COVID-19. Aaron Rodgers tested positive for COVID-19, after which his intention to destroy Mahomes on the field flew out of the window. Surprisingly, the Chiefs' quarterback was more disappointed than any of us.
ADVERTISEMENT
Article continues below this ad
Patrick Mahomes talks about Aaron Rodgers missing upcoming fixture
ADVERTISEMENT
Article continues below this ad
In 2020, both Mahomes and Aaron Rodgers were in the run for MVP, but the Packers QB picked up the honors. This year, both of them had different starts to the season. While Rodgers' team collapsed in front of New Orleans Saints, Mahomes and Co got off to a flying start. But now, the roles are reversed, as the Packers have a tight grasp on the Lombardi trophy for now.
Speaking on a pre-game conference, Mahomes addressed the controversy surrounding Rodgers missing this huge fixture. Instead of criticizing him, Mahomes wished him well and hopes he recovers well. He even claimed he hasn't contacted him since the positive test, but intends to.
"When you get to see an all-time great like him play and I've kind of watched his game for a long time, feeling that I play a similar style, you always want to compete against the best. Hopefully, he's healthy, it's not too bad, I'm sure he'll come back from it stronger than he was before."
"I haven't got to yet. I heard about it as I was going on to the walk-through on the field. Obviously, it's disappointing and I hope that he's healthy and that he can get through it. COVID is a scary deal, and it can kind of get anybody so just praying for him that he can get back to who he is."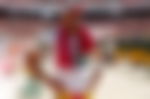 Mahomes heaps praise on Packers backup QB, Jordan Love
ADVERTISEMENT
Article continues below this ad
Stepping into Aaron Rodgers' empty shoes is Jordan Love. The 2020 #1 draft pick hasn't received many opportunities to start, majorly because of the legend ahead of him. However, Rodgers' absence finally gives him the chance to step onto the field. Patrick Mahomes had a lot to say about Jordan during the press conference.
"I got to watch some games [Love] played in college, obviously, and he was slinging it around the field, making a lot of plays happen. He had a great preseason and played really well, so I'm sure he'll be ready. They have a great offense; he'll be able to step in and do what he can to have success."
ADVERTISEMENT
Article continues below this ad
Will it be Jordan Love who emerges victorious, or will Patrick Mahomes side destroy the Rodgers-less Packers? Games like these define the NFL, and the winner will surely be a favorite to clinch the Super Bowl.