Hours Before Baker Mayfield Update, Bucs New OC Already Found "Point Guard" for Tom Brady's Chair
Published 03/16/2023, 6:00 AM EDT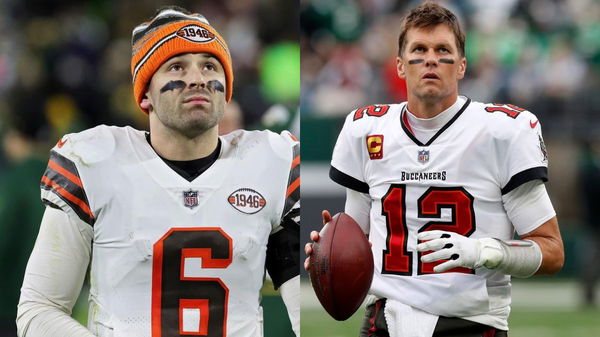 The Tampa Bay Buccaneers are undergoing a major haul in terms of their roster for the upcoming season of the NFL. After hiring new offensive coordination in the form of Dave Canales, the Bucs will be looking forward to filling in the holes left in the team by the retirement of NFL GOAT Tom Brady. But it seems like the team is already treading on this path, as they signed quarterback Baker Mayfield on Wednesday. This could be a move in the direction of finding a suitable replacement for the shoes of Tom Brady.
However, with the signing of Mayfield, what does this mean for the young Kyle Trask at the Bucs?
Kyle Trask, the new PG for Baker Mayfield as Brady's successor?
ADVERTISEMENT
Article continues below this ad
Before the news of the signing of Baker Mayfield to the Tampa Bay Buccaneers, Dave Canales expressed his opinion that Kyle Trask can develop into a player who excels in the point guard position. Trask was a rookie QB for the last season, as Brady remained the go-to option for his last season as a football player.
Tom Brady's exit led to the consideration of Kyle Trask as a potential recruit for the QB position. But the signing of Baker Mayfield brings in immediate competition for Trask. This called in questions about how his future with the team will now look like, now that he may not be the potential no.1 pick in front of a veteran.
NFL Network's Tom Pelissero said that Baker Mayfield signed a one-year, $8.5 million deal with the Bucs. While having a turbulent season last year, this gives him a chance to solidify himself as the no.1 pick after Ton Brady's exit.
ADVERTISEMENT
Article continues below this ad
Who will be the new sheriff of the Bucs nation?
It will be an interesting time ahead for both Kyle Trask and Baker Mayfield at the Bucs training camp. Bringing in Mayfield means that Trask has his work cut out for him. He will need to prove himself to the team if he wants to remain a choice for replacing Brady.
But they may also play him as a guard for Mayfield, while Mayfield will move ahead to score points for the team. It seems like an unlikely duo, but it may work out for the team. Whatever happens, the coming days are going to be ones to watch out for the fans of the Tampa Bay Buccaneers.
ADVERTISEMENT
Article continues below this ad
Watch this story: NFL star's wife takes aim at team's coach for trading husband right after wedding
Edited By: Abigail Kevichusa