Houston Texans Quarterback Deshaun Watson Trade Talks to Accelerate Around Nov 2 Deadline
Published 09/12/2021, 1:15 PM EDT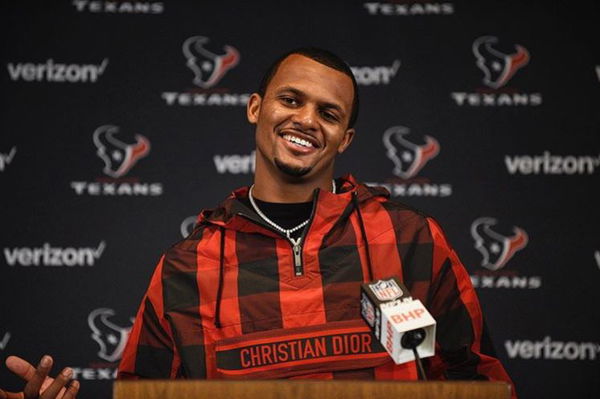 ---
---
Deshaun Watson, the Texans quarterback who is in his prime, will stick to his vow and will not play any game with the franchise. He will be a valuable spectator, warming the bench against the Jaguars as a healthy scratch.
ADVERTISEMENT
Article continues below this ad
Deshaun Watson's move to get traded has seen a bit of resistance from the Texans in the recent past. As the franchise doesn't seem to back down from its unfair trading clauses. Due to which Deshaun's move to Miami has been delayed for the past few weeks.
Who will sign Deshaun Watson?
ADVERTISEMENT
Article continues below this ad
However, this circumstance could see a turnaround by the time the transfer deadline drops in on November 2. Franchises like the Dolphins, Eagles, Panthers, and Broncos who had shown interest in the 25 year old quarterback earlier in the offseason. May return to offer the Texans a deal they cannot refuse.
The deadline is still 6 game weeks away. Hence, the concerned franchises have plenty of time in their hands to test their starting quarterbacks by then.
Hence, the Dolphins' viable starting quarterback, Tua Tagovailoa, and Carolina's Sam Darnold have to prove their mettle in the gridiron. Their performance during the first few game weeks would determine the fate of whether they will be replaced by Deshaun or not.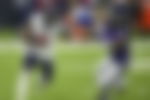 A Tug of War between Deshaun and the Texans
ADVERTISEMENT
Article continues below this ad
In this tug of war between Deshaun and the Texans, both stay strong in their stance against each other. Deshaun vows not to play for the Texans and wants to be traded off. While the Texans won't let him go unless they are given a strong offer.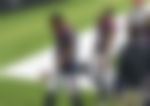 This tug of war may soon come to an end as the transfer deadline approaches. The first few weeks will reveal the weak side of the franchises which they would then like to replace with Deshaun. However, as the season drops for the Houston Texans, Tyrod Taylor takes up the QB1 spot against the Jaguars.
ADVERTISEMENT
Article continues below this ad