Houston Texans to Pull a Tim Tebow and Move QB Jeff Driskel to Tight End
Published 11/20/2021, 4:20 AM EST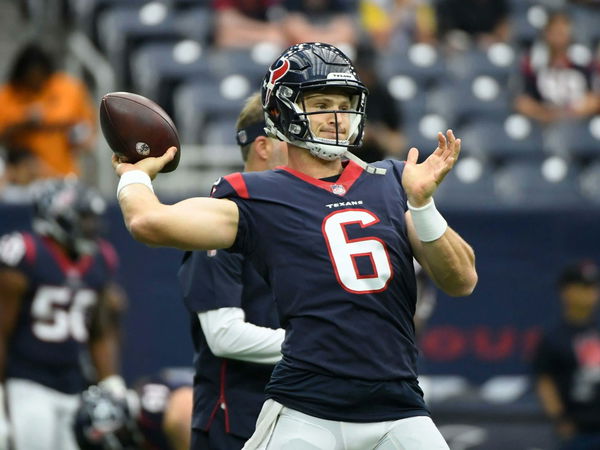 ---
---
 On Tuesday, Houston Texans TE coach Andy Bischoff announced that Jeff Driskel will move to the tight end position for the quarterback. Bischoff believes that the 28-year-old is "a rare athlete". The Texans think Driskel has the size and the speed to make a successful transition. 
ADVERTISEMENT
Article continues below this ad
Jeff Driskel has been moved to the tight ends position full time. He is also in consideration for a place in the special team. The Texans locker room already has three quarterbacks, Tyrod Taylor, rookie Davis Mills, and Deshaun Watson. With such a competition for the QB position, Driskel is yet to play a minute this season. Maybe after moving to the TE position, he will finally make his debut in the 2021 NFL season. 
ADVERTISEMENT
Article continues below this ad
Jeff Driskel's career as a quarterback
Jeff has started nine times as a quarterback in his career with the Bengals, Lions, and Broncos. He has a record of 1-8. Driskel has 13 touchdowns and eight interceptions under his belt. He has accumulated a total of 2,120 yards. Driskel has proven himself to be a prime athlete with 309 yards on 53 carries (5.8 YPA) and three rushing touchdowns. In 2019 he caught a six-yard pass with the Lions as a quarterback. Driskel was a sixth-round pick in the 2016 NFL draft by the San Francisco 49ers. 
Texans QB Jeff Driskel is moving to tight end. TEs coach Andy Bischoff called him "a rare athlete."

— Aaron Reiss (@aaronjreiss) November 18, 2021
Driskel joined the Houston Texans as a free agent this offseason and recently joined the active roster from the practice squad. 
Soon, we may see the "Rare athlete" catching balls from the Texans quarterback and making touchdowns. 
ADVERTISEMENT
Article continues below this ad
Who will start as QB for Houston Texans?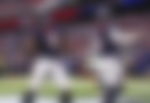 With Driskel jumping ship to the TE position, the Texans are down to two quarterbacks. Tyrod Taylor and Davis Mills. The third QB Deshaun Watson is out of the season with an injury. It's down to Taylor and Mills. Which direction will the Texans go in? Will they try to build the rookie Davis Mills or will they start with the experienced Tyrod Taylor? 
ADVERTISEMENT
Article continues below this ad
In retrospect, moving Jeff Driskel to the tight ends position seems reasonable. Keeping him as a third quarterback behind Tylor and Mills just makes little sense. Let's see how Driskel fits in his new position.