"I Believe Carson Wentz is the Problem"- Ryan Clark Slams Philadelphia Eagles Quarterback
Published 09/21/2020, 5:18 PM EDT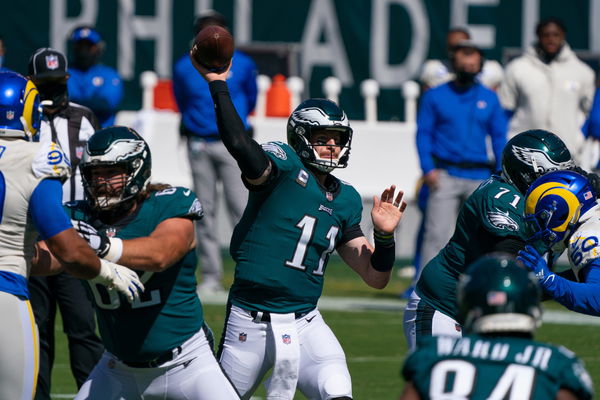 ---
---
It was yet another disappointing weekend for the Philadelphia Eagles and their massive fanbase. Doug Pederson's boys suffered a 19-37 loss to Los Angeles Rams in their first home game of the season on Sunday.
ADVERTISEMENT
Article continues below this ad
Quarterback Carson Wentz found himself at the center of criticism after another sub-par display for the Eagles this season. Wentz completed just 26 of his 43 attempted passes against the Rams on Sunday. He had no passing TDs to his name but threw two interceptions.
At the end of the game, a 'booing' sound was played on the speakers at the Lincoln Memorial Field. Surely, this can't go on any longer if the Eagles intend to make the Playoffs this year.
ADVERTISEMENT
Article continues below this ad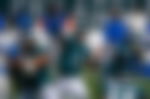 Ryan Clark lashes out at underperforming Eagles quarterback Carson Wentz
On the latest segment of ESPN Get Up, host Mike Greenberg was joined by the former Pittsburgh Steelers man, Ryan Clark. While talking about the Eagles' recent loss to the Rams, Clark gave a scathing analysis of the under-pressure quarterback.
He said, "Listen when you look at the Eagles, they just aren't there. Carson Wentz's play may be problematic but I believe he is the problem.
"When you look at that game yesterday, they are down five with a good drive going in the third quarter with an opportunity to go up and that's when he throws that interception."
"You go to week one, you're up 17-0 with under two minutes to go in the first quarter, you throw an interception there, then you throw another one in the third quarter. These aren't just mistakes we can look in a vacuum. Football is about situations.
"He is making bad situational decisions and that's not a good thing for any quarterback whether he's problematic or the problem," Clark said on the show.
Will Jalen Hurts replace Wentz as the Eagles' first-choice starter?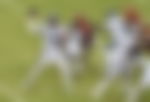 Coach Doug Pederson might be tempted to give youngster Jalen Hurts some game time this season. Wentz is now 27, and the Eagles might have one eye on the future.
ADVERTISEMENT
Article continues below this ad
The former Alabama and Oklahoma player was drafted by the Eagles in the second round of the 2020 NFL draft. He is highly rated by his superiors and is tipped to be the long-term replacement for Wentz in Philadelphia.
The Eagles have two tough games ahead of them. They take on Cincinnati Bengals at home this weekend before playing the San Francisco 49ers at the Levi's Stadium in Week Four.
Coach Pederson will have to make some key changes to his misfiring offense. Could we see rookie Jalen Hurts make his NFL debut in the coming weeks?
ADVERTISEMENT
Article continues below this ad