"I can break it again" – Michael Thomas Confident Of Setting a New Record This Season
Published 08/03/2020, 3:04 PM EDT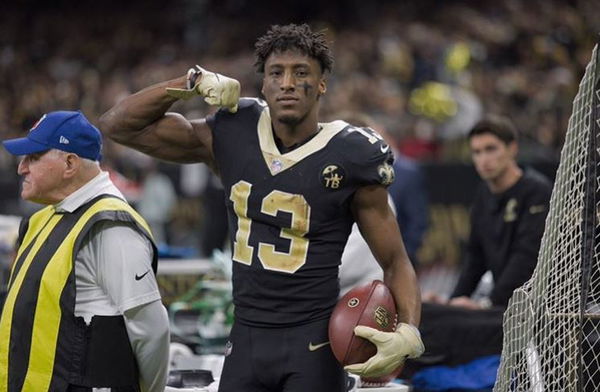 ---
---
Many people thought that former Indianapolis Colts wide receiver Marvin Harrison's 143 reception record for a season would never be surpassed. However, New Orleans Saints' Michael Thomas did the unthinkable last season. The highly-rated wide receiver completed 149 receptions last season, that too, with a game to spare.
ADVERTISEMENT
Article continues below this ad
Thomas has now led the league in receptions over the last two NFL seasons. In addition to that, he even led the stats for overall yardage while playing for the Saints last year. But Mike does not seem satisfied with those numbers. In fact, in a recent interview with the team's official website, the California-born athlete revealed that he wants to break his own records in 2020.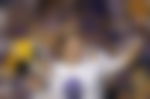 ADVERTISEMENT
Article continues below this ad
New Orleans Saints' Michael Thomas claims he can outplay himself in 2020
"Yeah, I think I can break it again. It's just what I do. At my position I set real high goals and try to accomplish them along with winning football games and helping out the people around me. It is kind of just like something that keeps you (motivated), you know, we have goals at the beginning of the season and you kind of just chase them all year and just kind of, I do not know.
"I feel like in my head I was going to get it eventually because I don't really drop too many passes. When it comes to that I just had to just stay consistent and be more consistent and take advantage of my opportunities and it just added up faster," Thomas said via NFL Network.
Thomas looking forward to playing alongside Emmanuel Sanders
ADVERTISEMENT
Article continues below this ad
In addition to that, Mike also spoke about New Orleans' move to bring in Emmanuel Sanders as part of the wideout department. The veteran NFL wide receiver spent some time with Denver Broncos and San Francisco 49ers last year. Sanders will give star quarterback Drew Brees an additional attacking option while moving forward.
"Any time you get a chance to play with another veteran guy that's played a lot of football and has played in championship games and has won a lot of games that plays the same position, you always get excited.
"Being a receiver, you want to free up the coverage. You always want to get the defense to have to go 'man' or something. You have to just figure it out, what they're going to do. So any time you can add another weapon to the other side, it just makes you more excited for the things that the offense can accomplish as a whole. We have a lot of weapons and the more weapons we have, the more exciting it's going to get. It's just simple math," Thomas further added.
ADVERTISEMENT
Article continues below this ad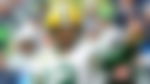 SOURCE: New Orleans Saints, NFL