"I Could Just Sit There and Make Fun of Myself": Travis Kelce Reveals How SNL Came up With Just the Perfect Monologue for Him
Published 03/09/2023, 1:42 PM EST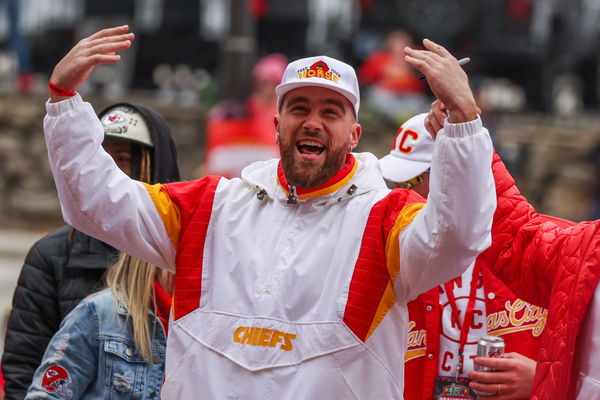 Super Bowl 57 winner Travis Kelce recently hosted the SNL (Saturday Night Live) on March 4, which received plenty of praise from the NFL world, especially, his monologue. In the recent episode of the 'New Heights' podcast, the Kelce brothers, both Jason and Travis, talked about the monologue, where the younger Kelce shared the details of how he came up with the content of the monologue.
Notably, the monologue had plenty of hilarious punchlines, where Travis made fun of himself. Moreover, he made fun of his older brother Jason and the Eagles as well. In the podcast, Jason asked his brother about the show, and Travis shared some interesting facts.
Travis Kelce opens up about creating his hilarious SNL monologue
ADVERTISEMENT
Article continues below this ad
While talking to his brother Jason, Travis said, "So, Monday you have that one meeting… interaction meeting… then you meet with the writers about the monologue. Probably the biggest part was making sure the monologue is like true to you but at the same time still entertaining."
Talking about feeling really comfortable with the monologue, Kelce said, "Oh my gosh, they made that monologue so me that I could just run with it; I could have fun with it. I was comfortable with everything that didn't make me nervous about anything that I was saying; I could just sit up there and make fun of myself in front of everyone. It was the best."
ADVERTISEMENT
Article continues below this ad
In the monologue, Kelce made fun of himself by revealing some interesting facts about his time in college. Then he joked about his ability to do speeches while trolling his teammate Patrick Mahomes. Then, he joked about his brother Jason and beating him in the Super Bowl. Jason's serious poker face made the joke even funnier. He was also wearing a pretty weird-looking suit, which also drew plenty of attention from fans.
Kelce reportedly had a fun night after hosting the SNL
Earlier, Page Six reported that Kelce and his family were partying heavily at the Mermaid Oyster Bar in Times Square, where SNL organized their after-party. At the party, SNL's musical host, Kelsea Ballerini, also joined later with her boyfriend.
ADVERTISEMENT
Article continues below this ad
Notably, Kelce and Mahomes recently went to Vegas, where they had a pretty amazing party. As per reports, Kelce opened a 6-liter of Champagne bottle and poured it on everyone on the dance floor. Safe to say, the Chiefs players are certainly enjoying their Super Bowl win a lot longer than usual. It will be certainly interesting to see if they can replicate last season's success in the 2023 season as well, which will be an amazing feat.
Watch This Story: This 21-year-old millionaire QB determined to leave his mark like NFL Goat Tom Brady and Patrick Mahomes