"I Don't Feel 100%, But Nobody Does Right Now"- Pittsburgh Steelers Quarterback Ben Roethlisberger on His Arm
Published 12/22/2020, 11:46 AM EST
---
---
The Pittsburgh Steelers' Ben Roethlisberger presented the worst possible play of their entire career so far. He threw just 1 interception, the defenders dropped the other 2 throws. What's more, 2 throws made by him were batted down by the opposition.
ADVERTISEMENT
Article continues below this ad
In the game, he just managed to complete 20 passes out of 38 attempts surprisingly without any drops completing 52.6% of his passes.
He averaged around 4.5 yards every attempt for 170-yard throws. He made 1 touchdown pass to pair with his 10th interception of the season.
ADVERTISEMENT
Article continues below this ad
Forgettable performance by Ben Roethlisberger
His performance on the field was downright terrible. Out of 12 attempts made he could only complete 1 pass for a distance thrown 10 or more yards down the field. This was the pass he made to Diontae Johnson at the start of the third quarter.
He was way off the mark on his deep-ball-attempts, including a late attempt on 3rd for Chase Claypool that should have been flagged for pass interference. They were really poor with their throw.
Big Ben suffered an injury to his arm, a torn tendon, that sidelined him for quite some time. Many suggest that his declining performances are a direct result of an unsuccessful or incomplete recovery.
Following his 27-17 loss at the hands of the Cincinnati Bengals, Roethlisberger was asked about the status of his recovery. "Well, I don't think anybody that plays this game at any position whether it's Week 1 or Week 16 feels 100 percent.
"So I would say, no, I don't feel 100 percent, but nobody does right now," said Roethlisberger.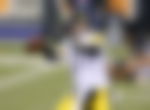 The Steelers have missed Big Ben at practice for the last 2 weeks; however, the Pittsburgh-based outfit were clear that his absence was not a result of any injuries.
ADVERTISEMENT
Article continues below this ad
This absence, perhaps, could be the reason behind his rapid decline. However, the Black and Gold desperately need Big Ben to find his way back to his former self; for they go into their next game against the Indianapolis Colts as the underdogs.
What makes matters worse is that they are billed to concede an L in their own backyard. It truly has been a fall from grace for the Pittsburgh Steelers. Can Ben Roethlisberger claw his way out of this grave? Only time will tell.
ADVERTISEMENT
Article continues below this ad