"I Don't Think the Packers or the Jets Have Any Leverage": New Update Emerges on Aaron Rodgers Deal, Moments After Allen Lazard Signing
Published 03/18/2023, 8:15 AM EDT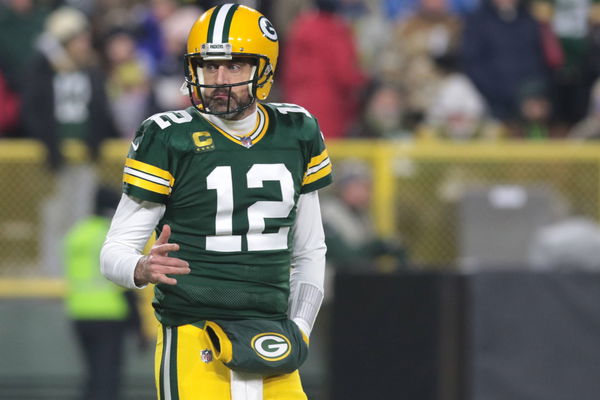 The 2023 offseason is circling Aaron Rodgers. Green Bay Packers are ready to move on from their star athlete. A-Rod also expressed his interest in returning and is willing to head to New York to join the Jets. But since his admission, no such move has materialized, and the barter remains hanging. Amidst speculations, a notable insider opened up on what has been keeping the trade hanging in the middle.
NFL Insider Ian Rapoport joined one of 'The Pat McAfee Show's latest episodes. Host McAfee and Rapoport talked about the Aaron Rodgers situation. Since making his intentions clear, there have been no movements among the Packers and the Jets. 
Who has the influence?
ADVERTISEMENT
Article continues below this ad
The National Insider mentioned, "I don't think the Packers or the Jets have any leverage because both sides want to get the Aaron Rodgers deal done." Ian Rapoport also added that there seem to be some monetary issues that paused the trade. He cited, "They just haven't been able to figure out a price, and like I could argue either way, that the other side needs to get it done. But the other thing is, what's the price? Like, how do you figure out a quarterback who's gonna cost 60 million dollars but is one of the greatest ever?"
The New York Jets have the star power that Aaron Rodgers might require. The franchise brought in Nathaniel Hackett as OC to lure the multi-time MVP. Ahead of Rodgers' acknowledgement, the franchise also targeted Allen Lazard in free agency, which led to them eventually signing him.
Allen Lazard was one of A-Rod's top targets in the Packers' 2022-23 season. The five-year veteran would be a solid addition to the Jets' offensive lineup. His arrival brings in several speculations for a reunion, and he is also waiting for the moment to occur.
The New Jets receiver is eyeing the arrival of Aaron Rodgers
ADVERTISEMENT
Article continues below this ad
Allen Lazard would bring some classic veteran instincts into New York Jets. The arrival would allow him to reunite with his former Packers OC, Nathaniel Hackett. Lazard is also keeping tabs on the Packers-Jets trade for Aaron Rodgers.
ADVERTISEMENT
Article continues below this ad
As per ESPN, Lazard mentioned that his relationship with Rodgers has remained 'phenomenal.' While he is conscious of the rumors and tendency of the QB1 heading to New York, it was not the deciding factor of the WR's career move. However, he is ecstatic to work with OC Hackett, whom he acknowledged as the "best teacher" in his life.
Watch This Story: Tom Brady Went to The Same High School As This Controversial MLB Hall of Famer Who Was Also A 14x All-Star