"I Love Him and I Am His Brother": Stephen A. Smith Backs NFL Legend Amidst $100 Million Lawsuit Latest Controversy
Published 03/19/2023, 5:19 AM EDT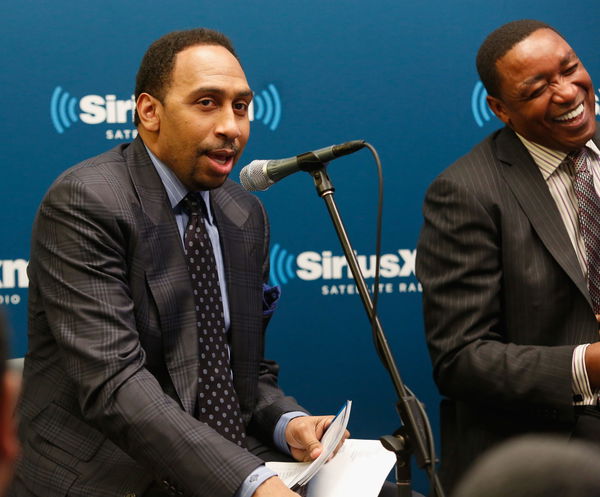 Stephen A. Smith always has a way of speaking his mind on television. And when the case involves one of his closest friends, how can he not? Amid a $100 million lawsuit, Smith has opened up about the recent controversy which had an NFL legend in the center. And he has backed his friend fully amid all the twists and turns in the controversy.
Michael Irvin landed in hot water after sexual harassment allegations surfaced against him. But Smith is fully there for his former colleague and 'brother'.
Stephen A. Smith backs Michael Irvin
ADVERTISEMENT
Article continues below this ad
Stephen A. Smith is standing with his friend and 'brother' Michael Irvin as the sexual harassment allegations rage on. Speaking on the issue, the sports commentator revealed that he is in constant contact with the Dallas Cowboys legend since the controversy began.
"Michael Irvin is not only my friend, he is my brother. I don't just love working with him, I love him. We've spoken every single week since the Super Bowl week ordeal transpired. I love him and no matter what, I am his brother and I'm gonna be there for him. Period," Smith said on 'Know Mercy' podcast.
Smith and Irvin worked together for ESPN. But after the allegations came out against the Cowboys wide receiver, the network, along with the NFL Network, dropped him from their panels during the Super Bowl week.
Much has transpired since the initial allegations. Irvin has denied any wrongdoing in the case. And to hammer his point home, he has gone on a counter-offensive with a $100 million lawsuit.
The story so far
The initial allegations came against Michael Irvin about a week before the Super Bowl. A female staff member of the Marriott in Phoenix, Arizona, alleged that the NFL legend sexually harassed her during a conversation in the hotel bar. He was there to cover the buildup to the clash between the Kansas City Chiefs and the Philadelphia Eagles.
After Irvin lost his job due to the allegations, he filed a $100 million defamation lawsuit against the accuser's employers. And all through the media trial that ensued, he has denied doing anything wrong.
ADVERTISEMENT
Article continues below this ad
In the latest twist in the case, Irvin's lawyer released footage of the interaction between the accuser and his client. And attorney Levi Mcarthern, there is no doubt that the woman is not offended. And Stephen A. Smith talked about the video during his podcast. 
ADVERTISEMENT
Article continues below this ad
It remains to be seen which way the controversy turns next.
Watch This Story: Truth or Dare: Baker Mayfield's name in the mix as NFL GOAT Tom Brady's successor 
Edited By: Deepika Bhaduri