"I Miss Trey Lance": 49ers Fans Become Laughing Stock of NFL World After Jimmy Garoppolo's Comeback Goes Miserably Wrong
Published 09/26/2022, 9:59 PM EDT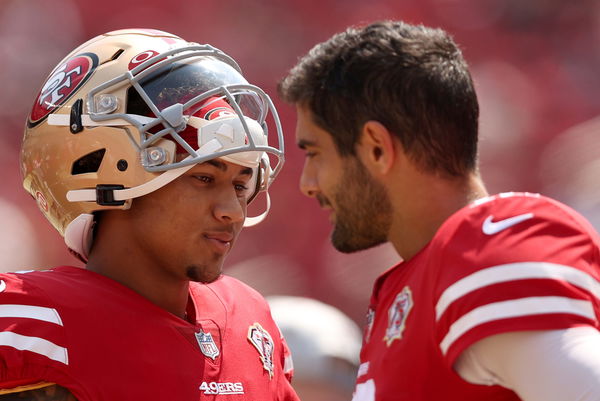 The San Francisco 49ers' Week 3 game saw Jimmy Garoppolo fumbling with unnecessary and inaccurate gameplays. The hopes were quite high for the Niners' fanbase. But now, it seems everything is falling apart for the squad after they started pitching for Trey Lance.
ADVERTISEMENT
Article continues below this ad
In a slow and sloppy encounter on Sunday, Jimmy Garoppolo and the team registered an 11-10 loss to the Denver Broncos. It was a low-scoring game featuring 17 punts and a hell lot of frivolous gameplay.
ADVERTISEMENT
Article continues below this ad
At least it was not expected from Garoppolo, who vowed to return on a high note. There were many moments in the game where the Niners could have converted it to their favor. But in the end, Russell Wilson pulled it through. The fumbled snaps, and touchdown miss to Deebo Samuel, the safety, could have saved the game, but all those interceptions and sacks, paved the way for a crushing defeat.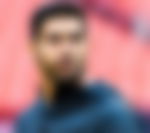 It could have been a fair loss for Garoppolo's led side if either the defense or offense could have fared well. But it was humiliating that they even missed chances accidentally thrown by the opposition.
With this performance, the Niners fans have started pitching for Trey Lance, who is suffering from an ankle injury. The second-year quarterback was nominated as the starting quarterback, but Garoppolo had to step up after the former got injured. Now they are calling it a mistake and have been 'missing' Lance on the field.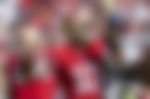 These comments invoked a new stream of trolls on the internet where netizens poked fun at the Niners fanbase for their double standards. Earlier it was only Garoppolo, but an unexpected loss made the fans fall back on Lance again.
Trey Lance supporters get trolled by the netizens
Ahead of the Week 3 clash, Niners head coach Kyle Shanahan called Jimmy Garoppolo one of the best throwers on the planet. He also affirmed that Lance was happy to learn that Garoppolo is replacing him. But all of a sudden, the trust of fans seemed to have fallen apart. They severely trolled all those who verbalized getting back Lance in the NFL world.
One of the users asked what Lance had achieved to miss him.
I'm not a Jimmy fan he suck's but what has Trey done for everyone to say he is it?? 49ers twitter makes him out to be Michael Vick

— KB #24 (@2k1Flores) September 26, 2022
Similarly, this user couldn't see any logic.
Man Lance ain't showed you anything that warrants missing lol y'all act like he put up some production or shown something that is worth missing.

— DeAngelo Garrett (@okcboi) September 26, 2022
He ain't going to be better, said another user.
You guys know damn well he wasn't going to make much of a difference

— ruben (@ruuubenh) September 26, 2022
Indeed, Garoppolo was a much better choice.
Hmmm don't really think he would've made a difference.

— RetroESP88 (@StovieRetro) September 26, 2022
ADVERTISEMENT
Article continues below this ad
Well, better luck next time!
None of us have ANY idea what he would've done, none.

— NICA49ers (@chontal) September 26, 2022
ADVERTISEMENT
Article continues below this ad
Next week, the Niners will face the reigning Super Bowl champions Los Angeles Rams. It would be a great chance for testing Garoppolo's abilities. At the same time, improve his record heading into the mid-season.
Watch This Story: That's a Bold Choice By Tom Brady: Married to a Fashion Icon, 45-Year-Old Phenoms Backwards Hat Gets a Hilarious Reaction From Legendary Football Insider
Edited By: Deepika Bhaduri