'I Need to Grow Up': Seattle Seahawks WR DK Metcalf on His Frequent Outbursts This Season
Published 11/21/2021, 12:48 PM EST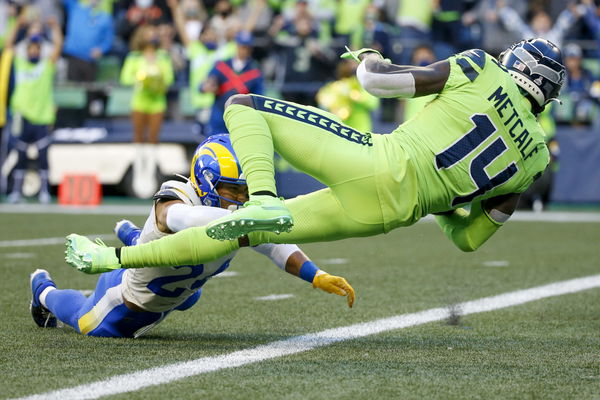 ---
---
Seattle Seahawks wide receiver DK Metcalf is the angry young man of the NFL, as he's had "three outbursts" this season alone. And head coach Pete Carroll has had enough of it as it has started to take a toll on the team as he could potentially face a fine rather than a suspension for his aggressive conduct against the Packers.
ADVERTISEMENT
Article continues below this ad
One of his most recent outbursts was during his 17-0 loss against the Green Bay Packers last week, as in a heated argument, the 23 year old started to get a little rough on his approach. He grabbed both Henry Black and Eric Stokes by their helmets and if that's not enough, he was even seen throwing punches at Stokes.
ADVERTISEMENT
Article continues below this ad
DK Metcalf on his frequent outbursts
On his flight back to Seattle, he had a talk with Pete Carroll who gave Metcalf an ultimatum that he needs to control his aggressive emotions right away. Metcalf, however, put up no further arguments, as he agreed to Carroll that such incidents cannot continue.
"I'm a passionate player and I'm never going to back down from anything," Metcalf said. "He understands that. But at the same time, I'm starting to become a leader on this team. I have to grow up and continue to get better. I know that I'm still a work in progress, I don't like to use my age as an excuse, but sometimes I forget that I'm 23 years old, I have to continue to grow each day and the mistakes are going to get fixed."
With just nine games played this season so far, the young receiver has agreed to have had "three outbursts" this season so far. Which are; a taunting call against the Colts, a fine he received for tussling with the Saints' cornerback Marshon Lattimore and now the Packers incident.
Head coach Pete Carroll on the aggressive youngster
ADVERTISEMENT
Article continues below this ad
Carroll on Monday said of Metcalf: "The last thing he wants is for this to continue. He's been really good for five or six weeks now, he's just been playing ball and digging in. He wants to make sure that's what his work stands for, so I'm anxious to see him come back out this week and get going."
ADVERTISEMENT
Article continues below this ad
DK is the face of the Seahawks, and his unsportsmanlike conduct frequently is not good for the franchise. He was recently involved in a heated Twitter banter contest with the NFL legend Shannon Sharpe for making critical remarks about him. The receiver has already received seven penalties so far this season, which is a bit concerning for the team as well.