"I Swear He Planned It": Jimmy Garoppolo Shares Incredible Tom Brady Patriots Story During Raiders Conference
Published 03/18/2023, 5:56 PM EDT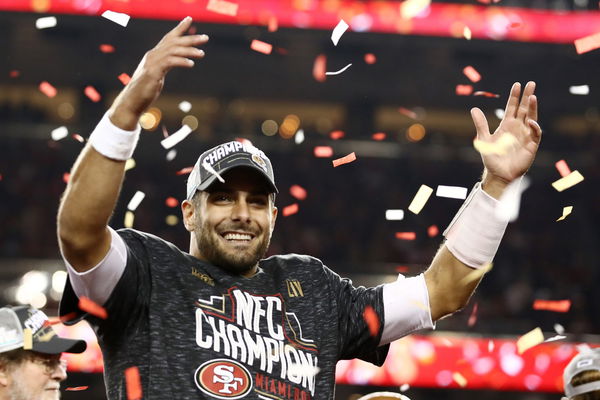 Jimmy Garoppolo has made his first official appearance ever since being linked with the Las Vegas Raiders. There was a ton of speculation regarding Garoppolo's future during the early days of the preseason. The unrestricted free agent was set to enter his 10th year in the NFL, and the Las Vegas Raiders came through for him with a three-year, $67.5 million free agent deal that includes $34 million guaranteed. And in the latest conference, with his new team, the QB shared a hilarious Tom Brady tale.
During his official press conference, Garoppolo touched on a number of instances throughout his life, starting his speech by thanking San Francisco 49ers for their contribution to his career. Jimmy reflected back on the formative days of his NFL journey and recalled being face-to-face with a certain GOAT during his time in a Patriots uniform.
 When Garoppolo met Tom Brady
ADVERTISEMENT
Article continues below this ad
Jimmy Garoppolo was a second-round selection for New England Patriots, in the 2014 NFL Draft. Garoppolo went on to spend the next three seasons in a Patriots uniform, playing behind Tom Brady and winning two Super Bowl rings.
With Garoppolo joining the Raiders, he still shares his New England connection with someone in the locker room.  The current head coach of the Raiders, Josh McDaniels, used to be the offensive coordinator for the Patriots, and the two are all set to be reunited.
While speaking on McDaniels, Garoppolo alluded to the time he accidentally met Tom Brady, or was it planned by McDaniels?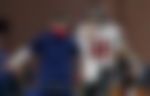 "I don't know if it was planned, but I swear he planned it — Tom Brady walked in, And I thought it would throw me off a little bit because I had never met him before, and a little starstruck. But yeah, he walked out, and Josh kept going with the teaching. That was our first interaction," Garoppolo said.
Having Tom Brady certainly helped McDaniels lay the groundwork around Jimmy Garoppolo, and maybe those memories will help push the Raiders in the future as well.
Garoppolo's coming to work
Garoppolo has a lot of high hopes resting on his shoulders, and he seems to be relishing the pressure.
ADVERTISEMENT
Article continues below this ad
During the press conference, Garoppolo went on to say, "I'm coming with the mindset that I need to earn everything — I don't want to be given any 'You're the franchise guy,' or whatever. I want to come in and earn it. I think it will come through hard work, working with teammates, and being in the facility. All those little things will play a role. But yeah, I don't want to be given anything; I want to earn it".
Garoppolo feels that his role being the QB does not automatically make him the leader. He is hellbent on gaining the respect of his team and wants to earn the right to lead them, rather than have the role handed down to him.
ADVERTISEMENT
Article continues below this ad
Watch This Story: GOAT Tom Brady settles retirement talk with decision on NFL future
Garoppolo being authentic, and holding his own values close to him has certainly worked for him in the past. It will hopefully continue helping him in his future with the Raiders.