"I Think We're Doing a Fantastic Job" – George Kittle Looking to Make NFL Return Sooner Than Expected
Published 12/02/2020, 4:50 PM CST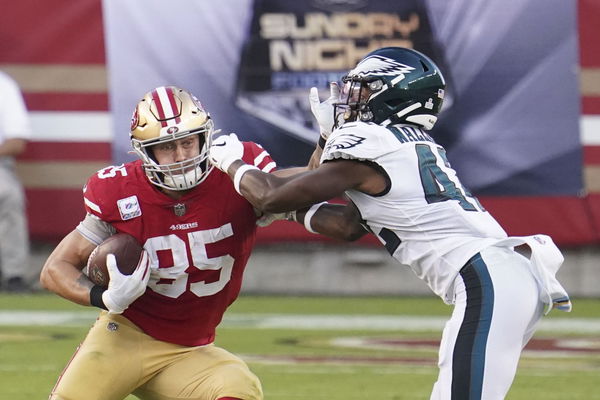 ---
---
San Francisco 49ers tight end George Kittle broke his foot last month. But he believes he is heading towards a speedy recovery. He also believes he might join the 49ers lineup as soon as he is out of bed and ready to play again.
ADVERTISEMENT
Article continues below this ad
"They said eight weeks; I said six, and I'm excited. These last couple days have definitely progressed forward and made me very optimistic about returning to the field of play," Kittle told NBC Sports Bay Area's Matt Maiocco on Tuesday.
"When I first got hurt, my mindset was that I'll be back. And I'm going to continue to keep that mindset because I definitely feel like I'm going to be on the field here sooner than later," said Kittle.
ADVERTISEMENT
Article continues below this ad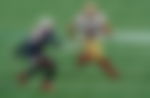 George Kittle gets his Cuboid bone fractured.
The highly-regarded 49ers star injured himself in Week 8 on November 1, 2020. He fractured his cuboid bone. It's the bone that sits connects the ankle and the foot providing stability and it lies outside the little toe.  He injured himself while leaping to catch a 25-yard pass thrown by quarterback Nick Mullens. San Francisco 49ers defeated the Seattle Seahawks 37-27.
"All I ever really learned was that it's the hardest bone in your foot to break, and you basically have to do it intentionally or in a car accident. So I don't know if that means I'm unlucky or if I need to slow down every once in a while," he said.
He praised his physiotherapists, and trainers who he believes are helping him recover.
"The good news is it's apparently the easiest bone to heal in your foot, and it's definitely doing a good job of that. Thankfully, I have great trainers and great [physical therapy] guys. They're the ones that are getting me back and healthy. And I think we're doing a fantastic job of that so far," added Kittle.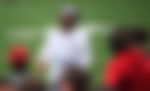 Kittle has made 37 catches for 474 yards and managed two touchdowns as well in at-least six games this season.
ADVERTISEMENT
Article continues below this ad
49ers head coach Kyle Shanahan said he would love to have both Kittle and his quarterback Jimmy Garoppolo back on the fields by the end of this season.
"I'm holding out for Jimmy for the last couple of weeks. Same with Kittle. I think they are both in a similar boat," coach Shanahan added.
Even though Kittle only played six games this season and none since Week 8, yet he remains the 49ers leading receiver with 474-yards.
ADVERTISEMENT
Article continues below this ad