'I Want the Best for Everybody': Cardinals Veteran Larry Fitzgerald Comments on Kyler Murray Situation
Published 02/09/2022, 9:45 AM EST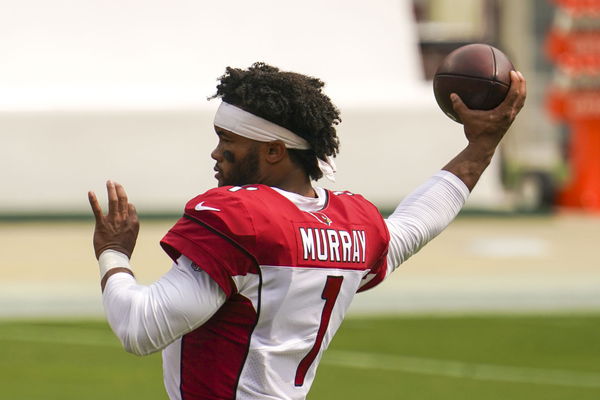 A situation has developed in Arizona revolving around a crucial member of their squad. It seems like the Cardinals star quarterback Kyler Murray is hunting towards an exit. He has been making some bold moves on social media.
In the middle of all the drama, his longtime teammate Larry Fitzgerald has stepped in and given a statement about the situation. Fitzgerald does not really know what is going on with Murray at the moment. The wide receiver has not yet retired nor has he talked to his QB. But he hopes for the best for both sides. 
ADVERTISEMENT
Article continues below this ad
What is going on with Kyler Murray?
The Arizona Cardinals star quarterback Kyler Murray has recently been on a cleaning spree. He has deleted all of his posts from Instagram. There's left only his Heisman Trophy photo and a post from the Pro Bowl on his account. We have no explanation why Murray did what he did. 
On Tuesday, there was a tweet made by Cameron Cox of the 12 sports. In the tweet we heard from WR Larry Fitzgerald. He said, "I haven't talked to Kyler in a while, but he looked good in the Pro Bowl." Fitzgerald adds, "He looked like he was having a great time throwing touchdowns out there, and I just hope everything works out the way both sides want it to work out. That's really what it's all about for me. I love Kyler, I love the Cardinals, and I want the best for everybody." 
Arizona QB Kyler Murray has unfollowed the team & removed all Cardinals-related content from his Instagram.

The only recent content was a picture of himself at the Pro Bowl and a story re-share of a Mike Evans post that said "always wanted to catch a pass from the Texas legend." pic.twitter.com/ltcQTvJcPA

— The Athletic (@TheAthletic) February 7, 2022
Murray was one of the most impressive players in the Pro Bowl game on Sunday. He threw for 160 yards with one Interception. Murray made three touchdowns but sadly, his side lost.
Why did Murray clear out his Instagram account?
ADVERTISEMENT
Article continues below this ad
 

View this post on Instagram

 
After an impressive showing in the Pro Bowl, the quarterback drew some attention. Kyler Murray, suddenly, deleted all of his posts. No one is too sure what to make of it.
ADVERTISEMENT
Article continues below this ad
Murry is one favorite to replace Tom Brady in Tampa Bay. The GOAT announced his retirement last week, but the QB position remains vacant. We have seen Kyler perform on the field. He has been very impressive throughout his career and would be a perfect fit for the Buccaneers. Maybe this is him letting everyone know he wants out of the Arizona Cardinals. Why do you think the quarterback deleted his Instagram posts?